Failure is the stepping stone to success: MoS Rajeev Chandrasekhar at MIT Tech Tattva '23
Union Minister Rajeev Chandrasekhar, an MIT alumnus, spoke at Tech Tattva '23, a technology festival. The event centered on technology's impact and featured projects and competitions, emphasizing innovation and continuous improvement. MIT's commitment to excellence was highlighted.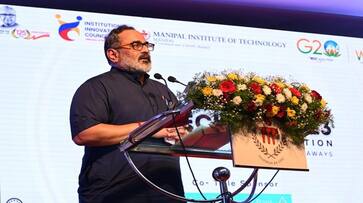 At the prestigious Tech Tattva '23, a national-level technology festival hosted by Manipal Institute of Technology (MIT) in Karnataka's Mahe, the spotlight shone on the words of the Chief guest and MIT Alumnus, Union Minister of State for Skill Development and Entrepreneurship, Rajeev Chandrasekhar. This year's theme, "Accelerating Development," underlined the profound influence of technology on our world, and notably coincided with the 125th anniversary of Mahe's esteemed founder, Dr. TMA Pai.
Rajeev Chandrasekhar, an alumnus of MIT, graced the event with his presence, delivering an inspiring address. He urged attendees to explore new ideas and foster a culture of continuous improvement, emphasizing that learning from failures is often the stepping stone to success.

Corruption embedded in Congress DNA: MoS Rajeev Chandrasekhar on Rs 42 crore cash haul in IT raid
Tech Tattva '23 served as a platform for showcasing talent and dedication through a dynamic array of projects, presentations, and competitions. Minister Chandrasekhar underscored that innovation knows no bounds and that the ideas presented have the potential to shape the future.

Union Minister Rajeev Chandrasekhar Criticizes Karnataka Congress Govt Over Budgetary Shortfalls
Dr. Anil Rana, the Director Commander of MIT, shared the institution's vision and commitment to nurturing an environment of innovation. Vinamra Choudhary and Manasvi Jadav, the festival's convenors, offered their insights, with the event kick-started by Mr. Rajiv Chandrasekhar's inauguration. The festival promises a series of workshops and competitions aimed at advancing technology.
The event drew prominent figures from Mahe, including Dr. H. S. Ballal, Lt. Gen. Dr. M. D. Venkatesh, and other key officials. Mr. Rajiv Chandrasekhar was honored with a memento in recognition of his invaluable contributions. Throughout the event, Tech Tattva '23 showcased MIT's unwavering commitment to excellence in both academic and extracurricular pursuits.
Last Updated Oct 18, 2023, 10:01 AM IST