'Shocking & shameful...' MoS Rajeev Chandrasekhar on Mahua Moitra 'Cash For Questions' controversy
MoS Rajeev Chandrasekhar has reacted to the cash for query allegations against TMC MP Mahua Moitra calling it shocking and shameful. The minister said, the company (Hiranandani group) in question was "actively and aggressively lobbying for Data localization"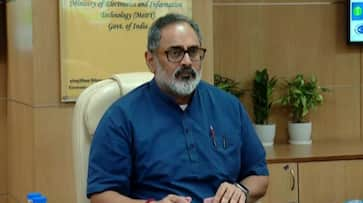 Rajeev Chandrasekhar, Union Minister for Information Technology, weighed in on the alleged "cash for questions" incident involving Trinamool Congress MP Mahua Moitra on Monday, citing a question she asked concerning rumours of a government ban on 54 applications. In a post on X, Mahua Moitra declared that it was a valid question since she is a member of the Joint Parliamentary Committee on Data protection.
Taking to X, formerly known as Twitter, he said, "I have learnt from news reports that this Parliamentary Question was likely asked by a MP at the behest of a Data center company. If true this is indeed shocking and shameful."
"It is true that this company  was actively and aggressively lobbying for Data Localization. Language used in PQ is very similar (linking need for data localization to data breaches) to that used when the head of this company met me. I am not aware or privy to the full facts or background on this - but if it is true then its a terrible travesty and misuse of PQs," he added.
Meanwhile, on Monday, the Adani Group released a statement calling attention to the recent bribe-for-questions accusation levelled against Trinamool Congress MP Mahua Moitra, adding that "some groups and individuals have been working overtime to harm our name, goodwill, and market standing."
According to an Adani Group spokesperson, a Supreme Court lawyer recently filed a formal complaint with the Central Bureau of Investigation (CBI), providing a sworn document outlining "the commission of an elaborate criminal conspiracy." The conspiracy revolves around the actions of Trinamool Congress MP Mahua Moitra and Darshan Hiranandani, the CEO of the Hiranandani Group.
Last Updated Oct 16, 2023, 5:51 PM IST