Not just Fawad Khan, even Faiz Ahmad Faiz is now banned
'Jago Hua Savera' was banned from the Jio MAMI 18th Mumbai Film Festival.
The screening of this film could have worked as a counter-narrative.
The festival lost an opportunity to make cinema relevant.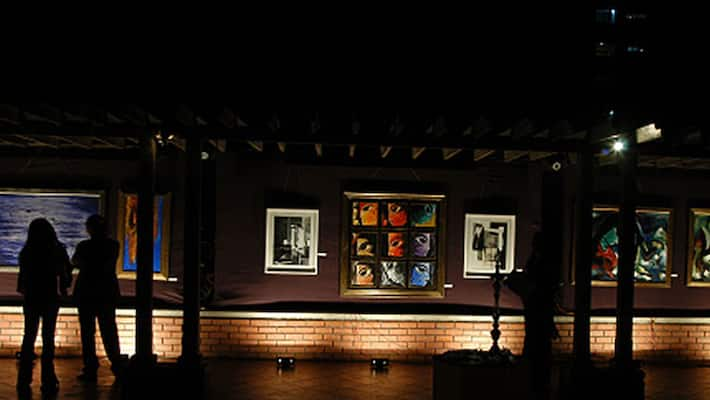 'Jago Hua Savera' or 'Day Shall Dawn', Pakistan's first modernist-realist film that was lost thanks to an anti-Communist crackdown by General Ayub Khan has now been restored after almost 60 years of its release. 

Jio MAMI 18th Mumbai Film Festival with Star had scheduled a screening of the film Under the Restored Classics Section, but they have now decided to drop it. Sangharsh, a Mumbai-based organisation, filed a complaint with the Amboli police because the film was contrary to "national sentiment".

Written by Faiz Ahmad Faiz, directed by AJ Kardar, acted by Tripti Mitra, shot by the famous German-born British cinematographer Walter Lassally about a fisher folk from East Bengal, shot at Saitnol village on the banks of Meghna, the film's cosmopolitan production takes it beyond just its historical importance. 

The plot was inspired by modernist Bengali novelist Manik Bandyopadhyay's 1930's Padma Nodir Majhi or Padma River's Boatman and is about fighting in a world of loan sharks. The Music was given by Timir Baran and the language used was Urdu and Bengali. The artistic and intellectual collaboration between the then West Pakistan, the two Bengals (then East Pakistan and West Bengal in India) and Europe remains a landmark of our generation. 

But the current jingoism evident from how even the media houses have switched sides leaves little space for a piece of cross-border art to be appreciated. The film's significance is how South Asians were thinking of a language and style that could be dictated by the content, which has universal themes, rather than importing western ideas.

Given the animosity between the two Pakistans and India (even then) a cinematic collaboration of this nature should have been the talking point particularly during times when artists from Pakistan working in India have been virtually banned and sent back. The screening of this film could have worked as a counter-narrative. The festival lost an opportunity to make cinema relevant. 

'Jago Hua Savera' not only reinvented Pakistani film, but it was also one of the first films to offer the world an insight into the situation in East Pakistan, its poverty and its fisherfolk at a time when the political landscape of the subcontinent was fluid and volatile.  
Fifty years after the making of the film it was remembered when a retrospective of Pakistani cinema was being curated by The Three Continents of Film Festivals in Nantes, France. Some reels of the film were discovered with a French distributor, and somehow parts of the movie were stitched together for a screening at Cannes. Incidentally, no Pakistani film critics attended the screening; only Indian journalists were present at the first screening. 
It is unfortunate that such a rare project that brings three countries (now) with a shared troubled past will not be available for viewing in India at least for now. Bangladesh may see it with ambivalence given the film's Urdu language, India - as we are witnessing - considers it anti-national to screen a Pakistani film and with the lead actor Tripti Mitra an Indian, even Pakistan may express indifference.  
Kishalay Bhattacharjee is a senior journalist and author. His most recent book is Blood on my Hands: Confessions of Staged Encounters (Harper Collins 2015). The views expressed here are his own.  
Last Updated Mar 31, 2022, 12:31 PM IST