Mysuru Dasara: Explosives detonate at Palace grounds, staff escape with minor injuries
During a Mysuru Dussehra festival rehearsal, an explosion occurred during the Jamboosavari training, injuring several staff. Today's events at Ambavilasa Palace included the conclusion of the Royal Sword Puja, a royal procession, Ayudha Puja, and Puja Kainkarya. The day began with Chandihoma and the arrival of uncrowned animals, including a Khasa weapons visit to the Someshwara temple. The day will end with another Royal Sword Puja.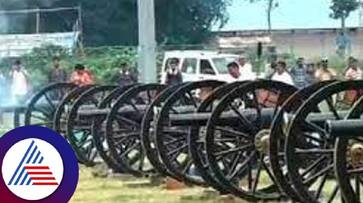 During a training session for the world-famous Mysuru Dussehra festival, a tragic incident occurred when explosives detonated, injuring several personnel. The rehearsal for the Jamboosavari took place at the palace grounds, where the national anthem was played, and 21 rounds of Kushalatopu were fired. Unfortunately, the Kushalatopu exploded, causing injuries to the staff, who were taken to the hospital in Mysuru. 
Today's Events at Ambavilasa Palace:
1. Royal Sword Puja to be concluded at Kodi Someshwara Temple.
2. The royal procession, including various ceremonial items, will arrive at Kalyana Mandap at 11:45 AM.
3. The Ayudha Puja at 12:20 PM and continued until 12:45 PM, during which Yaduvira Krishnadatta Chamaraja Wodeyar will worship the weapons.
4. Puja Kainkarya will be carried out at the Palace Welfare Hall.
The day also saw the celebration of Ayudha Puja and Durgasthami at Ambavilasa Palace. The events began with Chandihoma at 5:30 AM, followed by the arrival of uncrowned animals, including an elephant, a horse, and a cow at 6 AM. 
Khasa weapons were briefly sent to the Someshwara temple in the palace from 6:05 to 6:15 AM before returning to the palace at 7:15 AM. The day will be concluded with another Royal sword Puja at the Kodi Someshwara Temple, while the royal retinue, carrying a sword, will arrive at Kalyana Mandap for further ceremonies.
Last Updated Oct 23, 2023, 9:20 AM IST