Monson Mavunkal fraud case: KPCC chief K Sudhakaran appears before ED for interrogation
The senior Congress leader Sudhakaran reached the ED office around 11 am for interrogation in the case registered by the Crime Branch. He was accompanied by DCC President Mohammed Shiyas and KPCC General Secretary K Jayanth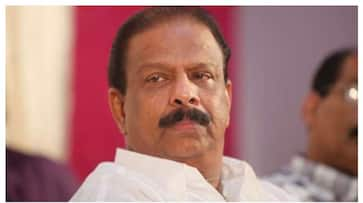 Kochi: Kerala Congress State President K Sudhakaran appeared before the Enforcement Directorate (ED) on Monday in connection with its involvement in Monson Mavunkal Fraud case. 
 The senior Congress leader reached the ED office around 11 am for interrogation in the case registered by the Crime Branch. He was accompanied by DCC President Mohammed Shiyas and KPCC General Secretary K Jayanth
The law enforcement agency had earlier summoned the congress leader for interrogation on August 30. However, Sudhakaran could not appear on that day due to his programmes related to Puthupally by-poll.
K Sudhakaran and former Director General of Police S Surendran were previously detained in connection with the case by the Kerala police's Crime Branch, who later released them on bail.
Several of the complainants alleged that they gave the money to Monson Mavunkal in Sudhakaran's presence, leading to his arrest in the case.
A complaint was filed against Monson Mavunkal in 2021 for allegedly defrauding people out of Rs. 10 crores on the pretext of returning the money. 
Additionally, it was claimed that the accused had misled the complainants by presenting them with false data associated with his account. The alleged links between Sudhakaran and the fake antique dealer were exposed after the two were pictured together.
Last Updated Sep 11, 2023, 3:09 PM IST