'Lord Ram is part of our culture': Javed Akhtar calls people to chant 'Jai Siya Ram' at Mumbai event (WATCH)
At a Deepotsav event in Mumbai, organised by MNS chief Raj Thackeray, veteran Bollywood lyricist Javed Akhtar praised 'Jai Siya Ram' as a symbol of love and unity.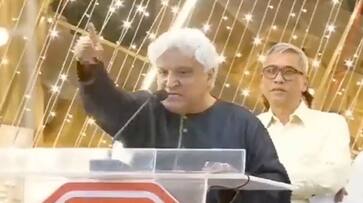 Renowned Bollywood lyricist Javed Akhtar, known for his candid opinions on religion and politics, expressed his sentiments on the deep-rooted symbolism of 'Jai Siya Ram' at a Deepotsav event organized by Maharashtra Navnirman Sena (MNS) chief Raj Thackeray in Mumbai on Thursday. Akhtar proclaimed that the phrase represents the epitome of love and unity, emphasizing the enduring cultural significance of Lord Ram and Sita as the archetypal husband and wife.
During the event, Javed Akhtar underscored that Lord Rama and Sita represent not only Hindu deities but also the cultural heritage of India. Commending the Hindu community for their tolerance, he asserted that democracy in India is sustained by Hindu culture and tradition, cautioning against losing the qualities of generosity and largeness of heart.
"There are some people who have always been intolerant. Hindus are not like that. They have this great quality – generous and large-hearted. Don't lose that, else you will become like others. We have learnt from Hindus' way of living. Will you leave that?" Akhtar said.
Emphasizing the contrast with those who exhibit intolerance, Akhtar expressed pride in being born in the land of Lord Ram and Goddess Sita. Despite being an atheist, he expressed deep respect for Maryada Purushottam Ram, citing Ramayana as part of the cultural heritage and explaining his participation in the event.
"Although I am an atheist, I respect Maryada Purushottam Ram a lot. Lord Ram is a part of our culture and civilisation. Ramayana is also our cultural heritage. That is why I have come to participate in the programme. Whenever we talk about Maryada Purushottam, only Lord Shri Ram and Sita come to mind," he said at the programme while sitting beside his lyricist partner Salim Khan and Bollywood actor Riteish Deshmukh.
Akhtar contended that even non-believers are part of Hindu culture and civilization, which he credited with instilling democratic values. Rejecting the notion of considering oneself right and others wrong as uncharacteristic of Hindus, he questioned the source of such teachings.
At the event, Akhtar encouraged attendees to chant 'Jai Siya Ram' slogans, recalling the cultural significance of the phrase in his childhood in Lucknow. He emphasized the unity symbolized by the words 'Siya Ram' and urged people to chant together.
"Therefore, it is a sin to think of Sita and Rama separately. The word Siya Ram is a symbol of love and unity. Siya and Ram were done by only one. His name was Ravana. So the one who does differently will be Ravana. So you chant Jai Siya Ram three times with me. Say Jai Siya Ram from today," he urged.
While pictures from the event circulated on social media, a video of Javed Akhtar chanting 'Jai Siya Ram' went viral, with diverse reactions. Some applauded his seemingly reconciliatory gesture, considering his past controversies, while others expressed skepticism, questioning if it might be an attempt to manipulate Hindu sentiments.
"This was an underhanded jibe at Modi/BJP/RSS for popularizing "Jai Shri Ram" instead of "Jai Siya Ram". Javed AKhtar is calling Modi a Raavan for using Jai Shri Ram instead of Jai Siya Ram. The man categorically asks people to say only "Jai Siya Ram" hereafter," noted on user on X.
A user named Priyanka Mishra stated, "Javed Akhtar is chanting "Jai Siya Ram". We have seen many cases where Muslims disguised in Hindu name, kalava and Tilak have been found outside temples abusing Brahmins. Don't believe Javed Akhtar. This is nothing new. This is another Trap to fool us and rule us. Stay United."
She further added, "Now when Bharat has condemned terrorist attacks by Hamas on Israel, people like Javed Akhtar have started chanting Jai Siya Ram to seek sympathy and fool Hindus. We should never forget and we should never forgive."
Last Updated Nov 11, 2023, 9:51 AM IST