Kolkata Police open lathicharge on crowd gathered at liquor shop near Mamata Banerjee's house

Nearly thousand people gathered at a liquor shop in Kolkata. The liquor shop queue almost violated section 144 issued in the area. Police had to open lathicharge to disperse the crowd.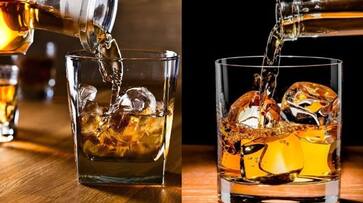 Kalighat: Centre has permitted the functioning of standalone liquor shops across India irrespective of zones. But the West Bengal Government is yet to take a decision about it.
Confusion regarding this led to a chaotic situation in Kalighat area of Kolkata on Monday morning. Ignoring the lockdown, nearly thousand people overflowed onto the street that houses a liquor store, a stone's throw away from chief minister Mamata Banerjee's house.
Police had to resort to lathicharge to disperse the crowd.
The third phase of the nationwide lockdown began on Monday. This time the Union home ministry has relaxed the restrictions in many sectors. Even liquor stores are allowed to open in Red, Orange, Green - all three zones.
Upon receiving the news, the locals crowded near a liquor store next to the fire brigade in Kalighat on Monday. But the shop was closed. Witnesses said, nearly thousand people queued up there at 9am. It is also alleged, most of them didn't maintain social distancing norms. The queue had almost reached chief minister Mamata Banerjee's residence on Harish Chatterjee Street, where Section 144 was issued.
The situation escalated to a point where even section 144 was on the verge of being violated. It was then that Kalighat Police Station decided to act. At first, police tried to convince the crowd to obey social distancing norms. When it did not work, they lathi-charged and dispersed the mob.
Liquor stores were open on Monday morning in most parts of the country including Delhi. However, in West Bengal shops were still closed. The state government has not yet reached a decision on this issue. It is learned that, initially it was decided that only districts marked as Green Zones will be allowed to sell liquor, while in Red Zones shops will remain closed. Whether it will be sold in the Orange Zones or not, was ye to be determined.
Liquor store owners claimed, they had not received any guidelines issued by the Central or state government. Only when they get the guidelines, will they think of opening their shops. However, they fear that they will face extreme chaos when shops will be opened. For the time being, police are campaigning across the West Bengal, so that people don't crowd near liquor shops. 
Last Updated May 4, 2020, 7:22 PM IST