Kerala: Vande Bharat gets grand reception in Chengannur Railway Station
Vande Bharat train service from Thiruvananthapuram to Kasaragod via Kottayam got grand reception in Chengannur railway station today. Union Minister V Muraleedharan, MP Kodikunnil Suresh, and others attended the reception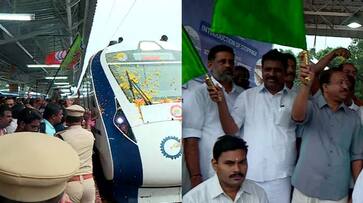 Chengannur: The Vande Bharat train got a grand reception at Chengannur railway station today (Oct 23). The train reached Chengannur station at 6.53 a.m. and departed at 6.55 a.m. Meanwhile, hundreds of people received the train at Chengannur railway station with flowers and cheers. Union Minister V Muraleedharan, MP Kodikunnil Suresh, and others attended the reception.
V. Muraleedharan and Kodikunnil Suresh flagged off the train from Chengannur. Meanwhile, Muraleedharan also explained about the complaint that other trains are being held for Vande Bharat. The minister said that the complaints related to the seizure of trains will be resolved with the arrival of a new railway timetable. The minister also stated that a new revised timetable for railways will be out soon.
The schedule of the train has also been changed, as a stop at Chengannur has been allowed for the Vande Bharat service, which operates the service from Kasaragod to Thiruvananthapuram via Kottayam. Vande Bharat, reaching Kollam at 6.03, will halt here for 2 minutes.
The train's arrival times at Kottayam and Ernakulam will remain the same as before. In Thrissur, it will now be stopped for 3 minutes instead of the previous 2 minutes, departing at 9.33 a.m.
The train's schedule from Shoranur to Kasaragod will remain unchanged, with stops at Kozhikode, Kannur, and Kasaragod stations as usual.
For the return journey, the schedule from Kasaragod to Shoranur will continue as before, with an additional minute stop in Thrissur. The Vande Bharat will now arrive in Thrissur at 6.10 a.m. and depart at 6.13 a.m.
The arrival and departure times at Ernakulam and Kottayam will remain the same. The train will reach Chengannur at 8.46 am and depart at 8.48 am; Kollam at 9.34 am, departing at 9.36 am; and finally return to Thiruvananthapuram at 10.45 am, which is 5 minutes later than the previous schedule.
Last Updated Oct 23, 2023, 9:09 AM IST