Kerala: "Teacher please come back..." Emotional video of teacher and students goes viral (WATCH)
Education Minister V. Sivankutty shared the heart-warming scene of such love between a teacher and students in Malappuram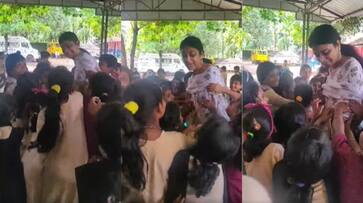 Malappuram: The role of a teacher in every student's life is irreplaceable. Teachers play a crucial and multifaceted role in students' lives, shaping their academic, social, and personal development. Education Minister V. Sivankutty shared the heart-warming scene of such love between a teacher and students in Malappuram
The minister shared a heart-warming visuals from GMLPS school, Perinthalmanna, and Malappuram on Facebook with the caption, "How innocent is the love of children? When the transfered teacher returns to the school, the children force the teacher to take their classes.
The teacher, NP Nisa, also talked about this incident and said, Who else is as innocent and loving as the children? Today I went to the old school, which was transferred last week, to get the last pay certificate. The children thought that I had come back. Last year's children asked to come to their class, and this year's children asked to come to their class.
 Earlier, a teacher named Kunjabdulla encountered a similar circumstance when his students gathered around him and began sobbing as they bid him farewell. The children can be seen sobbing and pleading with their teacher not to leave the school in the viral video. The Kallachi Govt U.P. school in Kozhikode witnessed the emotional farewell. 
As seen in the video, master Kunjabdulla comforts each student by wiping away their tears and promising to return tomorrow. Kunjabdulla was transferred to the Govt. U.P. school in Arambol, which is close to his home, after working there for the previous seven years.  The kids were unable to endure the thought of their favourite teacher leaving their school. 
The emotional attachment and the tears are an expression of the deep connection and affection the students have for their teacher. It shows that the teacher has left a lasting impression and that their presence will be missed. It is a testament to the significance of the teacher-student relationship and the value of the educational journey.
Last Updated Sep 29, 2023, 4:03 PM IST