Kerala: Stalled Life Mission project leaves family of cancer patient struggling
The Livelihood Inclusion and Financial Empowerment (LIFE) mission aims to build free houses for all homeless people in Kerala. However, a family in Pathanamthitta is leading a miserable life due to the halt of the construction of their house.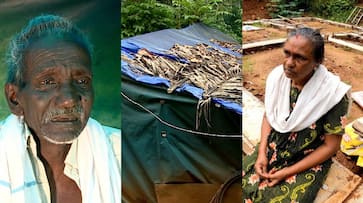 Pathanamthitta: After the construction of the house under the LIFE Mission project was halted, Gopalakrishnan and his wife, who reside in Pathanamthitta, were forced to live in a tarpaulin shelter and lead a wretched life. The money received as the first installment was used to lay the foundation for the house, however, the remaining sum has not yet been received. This poses a challenge to its completion. The family is on the verge of starvation and Gopalakrishnan, a labourer, has cancer.
Currently, both of them live in a tent made from canvas and tarpaulin. Heavy rain causes water to seep beneath the sleeping cot. It's an upsetting sight, this life of misery at the foothills.
Gopalakrishnan said, " We fear when we think of rain. Even if we are covered with a blanket, we will shiver. Rats, snakes and pigs are a nuisance to us. We wake up at least 16 times during the night."
Following the cancer diagnosis, Gopalakrishnan's condition deteriorated. He can't go to work. Things in life are stagnant. It is depressing to be without a place to sleep soundly. According to Gopalakrishnan, living beneath a sheet is fine as long as you avoid getting wet from rain. Sarasamma, his wife, claims that she has been waiting for the remaining money for more than four months. It would be sufficient, they claimed, to obtain at least one room after the construction of the house.
The president of the Seethathode panchayat said that Gopalakrishnan's illness has caused a delay in signing the construction contract for the LIFE project.  In answer to a question about whether they would receive the remaining sum, they were informed that the money would be transmitted shortly and that the state government would provide their share this week.
 
Last Updated Oct 26, 2023, 10:59 AM IST