Kerala: 'People welcomed Vande Bharat, not me...' Union Minister V Muraleedharan denies Congress' allegations
Congress MP K Muraleedharan attacked the BJP's central government for allegedly engaging in "low-level political games" during the first run of the second Vande Bharat Express allocated for Kerala. Union Minister V Muraleedharan responded to the allegations.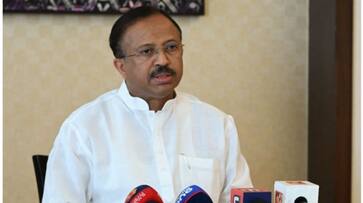 Thiruvananthapuram: Union Minister of State for External Affairs V Muraleedharan on Tuesday refuted claims made by the Congress that the second Vande Bharat Express's inaugural run in Kerala had become a platform for his own political campaign. He claimed that passengers were welcoming the train, not him, at the stations. He was responding to claims made by Congress MP K Muraleedharan, who argued on Monday that the train had been stopped at the stations for longer than necessary so that the Minister could accept greetings from BJP supporters and workers who had gathered there.
Also read: Kerala: Miscreants cut tail of buffalo in Kozhikode over trade disagreement
The Congress MP further said that the executive coach of the train had been converted into a BJP party office since so many party followers had been handed passes that were similar to those issued to MPs in order to board it.
In response, V Muraleedharan stated that as it was something they had never seen before, BJP workers and supporters had gathered at the stations to greet the train rather than him.
"So the train was the celebrity. Instead of me, people were clicking pictures with the train," 
"Those who were happy with the progress in the state came to witness and greet the train. If the Congress members weren't content, they needed to modify their thinking," said V Muraleedharan.
Regarding the matter of BJP employees receiving passes similar to those issued to MPs, the minister stated that K Muraleedharan should understand that in a democracy, MPs are servants of the people and not their employers and that he should therefore attempt to travel with the ordinary people.
V Muraleedharan stated that he would not take the Congress MP's comments seriously since he makes statements based on the situation at hand and modifies them as they change.
 
Last Updated Sep 26, 2023, 3:15 PM IST