Kerala News Highlights : Kerala HC orders to cease construction of CPM party offices in Idukki immediately
Kerala News highlights: According to the Idukki District Congress Committee, a government order issued in 2020 prohibited even the construction of homes or labour quarters, popularly known as "layam," on territory classified as Cardamom Hill Reserve (CHR), where the Santhanpara office is located.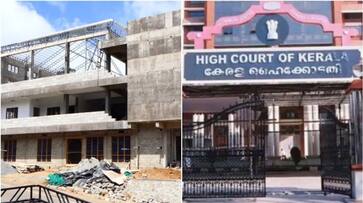 4.00 PM: 'Kerala is witnessing organised loot, institutionalised corruption...' Mathew Kuzhalnadan's fresh allegation against Veena Vijayan
The daughter of Chief Minister Pinarayi Vijayan, T Veena, has been accused of engaging in improper business dealings with a Kochi-based private company, according to new claims made by Congress MLA Mathew Kuzhalnadan. In addition to the Rs. 1.72 crore, he claimed Veena received other sums of money illegally. 
---
3.30 PM: Kerala High Court order to cease construction of CPM party offices in Idukki immediately
The Kerala High Court on Tuesday ordered that the construction of the CPM's party offices in the hilly Idukki district must stop immediately. The court ordered the district collector to halt the construction of party offices in Udumbanchola, Bisonvalley, and Santhanpara. A special bench that was hearing cases of land encroachment in Munnar issued the order. 
---
2.00 PM:  HC rejects govt's plea in ivory case; Directs actor Mohanlal to appear for trial in person
In connection with the illegal ivory possession case, actor Mohanlal has been asked to personally appear for trial before the Perumbavoor Judicial First Class Magistrate's court in Kerala's Ernakulam district. The Kerala government's request to drop charges against actor Mohanlal for allegedly possessing illegal ivory was once again rejected by the Perumbavoor Magistrate's Court.
---
12.15 PM: Karuvannur bank fraud case: ED raids residence of CPM MLA  AC Moideen
On Tuesday, sleuths from Kochi's Enforcement Directorate (ED) raided the home of former minister and Kunnamkulam MLA A C Moideen. The operation, according to sources, was related to the Rs 200 crore bank scam discovered in Thrissur's Karuvannur Cooperative Bank. In accordance with the Prevention of Money Laundering Act's (PMLA) guidelines, the ED is reportedly inspecting roughly six locations in the state.
---
11.30 AM: Temporary staff at Animal Husbandry dept sacked for backing Chandy Oommen
Prior to the Puthuppally by-election, PO Sathiamma, a temporary employee at Kaithepalam Veterinary Hospital, was reportedly expelled from employment because of her support for Chandy Oommen on television.
---
10.30 AM: Kerala: DYFI leader accused of obtaining government salary while in prison; Youth Congress demands suspension
---
10.00 AM: Monson Mavunkal cheating case: K Sudhakaran to appear before ED today
KPCC president K Sudhakaran will appear before Enforcement Directorate (ED) today in Kochi in the antiquities fraud case involving fake antique dealer Monson Mavunkal. 
---
9.30 AM: Stone pelting incidents on trains continue in Kerala; Vande Bharat, Rajdhani trains targeted
The Vande Bharat Express and the Rajdhani Express were both targeted in separate incidents, adding to the spike in stone-pelting events on trains in Kerala. The Rajdhani Express experienced a similar attack near Kanhangad, while Vande Bharat was stone-pelted between Tanur and Parapanangadi on Monday. A window in one of the coaches of the Rajdhani Express, which was travelling to Thiruvananthapuram, was broken after the train was hit by a stone at around 3.40 pm. There were apparently no injuries. 
---
9.00 AM: Hi-Tech cheating case: VSSC cancels examination; Special team to probe incident
After concerns about additional incidents of cheating in the same exam surfaced, VSSC decided to cancel the Technician-B, Draftsman-B, and Radiographer-A exams. Two persons from Haryana were arrested for cheating in the tests on Sunday in Thiruvananthapuram at various locations where the exams were taking place. They were utilising Bluetooth and other technological devices. The revised exam dates will be made public on VSSC's official website, the organisation claims. A special team will probe the case.
---
8.50 AM: Alappuzha station master suspended for failure during shunting procedures; six trains delayed
Alappuzha station master KS Vinod was suspended for stopping trains on all three tracks during shunting procedures. At 6:30 a.m., coaches were stopped on all three tracks for shunting so that the engines could be changed. Other trains then had to wait outside the station's grounds without entry. As a result, there was significant traffic congestion.
---
8.39 AM: Body of missing woman found in a ditch in Malappuram's Tuvvur; four arrested
Four people have been arrested by the police in connection with the incident in which a dead dead body, believed to be that of a woman who went missing ten days ago, was discovered on the premises of a home close to the Panchayat office in Tuvvur, Malappuram, on Monday night. The body was discovered in a ditch on Vishnu's property, who works at the panchayat. He has also been arrested. The deceased has been identified as Sujitha, reportedly a colleague of Vishnu.
 
Last Updated Aug 23, 2023, 8:38 AM IST