Kerala News highlights: KSEB midterm tender to open today; Adani Power, DB Power to participate
Kerala News highlights: KSEB midterm tender to open today; Adani Power, DB Power to participate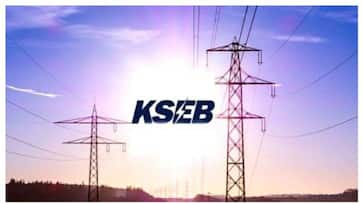 1.15 PM: Case filed against BEVCO in Muvattupuzha for selling liquor to minors
---
11.45 AM:  KSEB midterm tender to open today; Adani Power, DB Power to participate
KSEB's short-term electricity tender will be opened shortly. Adani Power Company and DB Power are the only two companies participating in the tender. Three companies from earlier canceled contracts are not participating in the tender. KSEB is opening the short-term tender amid the acute power crisis. The tender opening for the 500 MW medium-term Power Purchase Agreement (PPA) is scheduled for Monday. The tender for the purchase of 200 MW power on a short-term contract basis will be opened tomorrow. The third tender for the swap agreement will be opened at a later stage. 
---
10.45 AM: Rain alert update: Yellow alert issued in five districts today- Pathanamthitta, Alappuzha, Kottayam, Ernakulam, Idukki. There is also a chance of heavy rainfall in isolated places.
---
10.30 AM: 'Red is the hope of secularism, LDF will win in Puthuppally...' Minister Mohammed Riyas
---
9.30 AM: Puthuppally set to go for polls on Tuesday
To ensure a smooth byelection in Puthuppally on Tuesday, the Kottayam district administration and the Election Commission have finalised all preparations. For the Assembly constituency, a total of 228 ballot units, control units, and VVPAT machines have been set up, along with an additional batch of 19 VVPAT machines for reserve. Up to 10 polling places will only be staffed by women. In these booths, women will be in charge of security and voting.
---
9.00 AM: Will second Vande Bharat Express delay in Kerala? 
The Chennai Integral Coach Factory (ICF) released the second Vande Bharat train for Kerala. The train left the factory on Friday at 8 PM after passing all main inspections. However, the train has not yet begun its voyage to Mangalore since a decision on the route has not yet been made. There are also speculations that the train will be taken to Goa. Currently, the train is in the Chennai Basin Bridge yard. The decision was made to leave the train there until the service route was decided. The two additional Vande Bharat rakes that were authorised alongside Southern Railways have arrived at their respective zones from Chennai ICF.
---
8.40 AM: Forest department captures tiger in Wayanad
On Monday, the Forest Department was able to capture one of the elusive tigers that had been causing farmers in Wayanad's jungle hamlets considerable trouble. The Forest Department set a trap near Sulthan Bathery at Kolarattkunnu, Moolamkavu, to capture the tiger in the wee hours of Monday.
---
8.25 AM: Man hangs himself after slitting throats of his three daughters in Kottayam
A man identified as Jomon (40) committed suicide by hanging himself after slitting the throats of his three daughters in Ramapuram near Pala in Kottayam district. The incident happened around 12.30 AM on Monday. The three minor girls who were critically injured were admitted to Kottayam Medical College Hospital. After his wife left him, Jomon was living with his three daughters for the past one and a half years. 
---
8.04 AM: Rain update: Holiday for educational institutions in Konni Taluk; Heavy rainfall expected
A holiday has been declared for all educational institutions in Konni Taluk of Pathanamthitta on Monday due to heavy rain and landslides. The Pathanamthitta district collector stated in a post shared on Facebook that the exams would still take place according to the planned schedule. Meanwhile, IMD has predicted heavy rainfall in Kerala in the upcoming hours.
Last Updated Sep 5, 2023, 7:31 AM IST