Kerala: Man, mother-in-law sentenced to 27 years imprisonment in POCSO case in Thrissur
The Thrissur Fast Track Special POCSO Court sentenced two people to 27 years of imprisonment in the case of molesting a minor girl on Thursday. Arun (32) and Sharmila (48) have been jailed in the POCSO case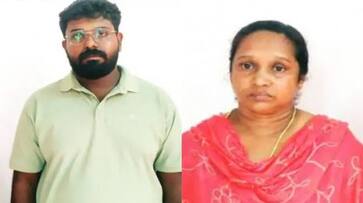 Thrissur: The Thrissur Fast Track Special POCSO Court sentenced two people to 27 years of imprisonment in the case of molesting a minor girl on Thursday (Oct. 26). The court also imposed a fine of Rs 2 lakh to the young man who drugged the girl with alcohol and sexually assaulted her. Arun (32) and Sharmila (48) have been jailed in the POCSO case.
The court ruled that if the fine is not paid, the accused will have to serve another three months in prison. The action is in a case registered at Mannuthi Police Station. The young man took the minor girl to her relative's house when her parents were away, and after giving her alcohol, the young man molested her.
Mannuthi Police led by Inspector M. A Saseedharan Pillai team investigated the case and submitted the charge sheet. Special Public Prosecutor K.A. Sunitha and Adv. T. Rishichand were also present.
Meanwhile, a husband committed suicide after stabbing his wife at Pathanamthitta on Thursday. Venukuttan, a native of Kunnanthanam, committed suicide after stabbing his wife, Sreeja. The Keezhvaipur police have reached the spot.
Last Updated Oct 26, 2023, 11:13 AM IST