Kerala: Man hacks wife, mother-in-law in Kozhikode
A middle-aged man hacked his wife and mother-in-law in Kodenchery, Kozhikode district, on Monday (Oct 2). The accused was identified as Shibu, who left the place after attacking them. Shibu hacked his wife Bindu(46) and his mother Unniyatha(69)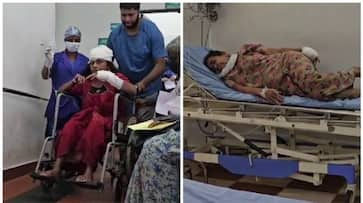 Kozhikode: A middle-aged man hacked his wife and mother-in-law in Kodenchery, Kozhikode district, on Monday (Oct 2). The accused was identified as Shibu, who left the place after attacking them. Shibu hacked his wife Bindu(46) and his mother Unniyatha(69).The incident took place today at 6 a.m. The police said that the reason for the violence was over a family dispute. The police have intensified search for Shibu. Bindu suffered with serious head and hand injuries after the attack. Both of them were shifted to Medical College Hospital.
Shibu was separated from his wife following a family dispute over two years. Shibu was hiding near the house. When Bindu came out in the morning, Shibu attacked her with a machete. He also attacked the mother, who came out after hearing her voice, and tried to save them. Bindu and Shibu have three children. Two of them were at home. By the time they came out, Shibu ran away. 
Unniyatha's finger was severed cut off in the attack. They were first admitted to the Thamarassery hospital. Later, they were shifted to Kozhikode Medical College, as the injury was serious.
Meanwhile, a man hacked a family of four in Ernakulam over an argument on Sunday (oct 1). The accused was identified as Anoop. He attacked his neighbour Peter and his family over an argument over honking. All the four members are undergoing treatment at Kolenchery Medical College Hospital
Last Updated Oct 2, 2023, 12:26 PM IST