Indian Air Force's Apache helicopter makes emergency landing in Madhya Pradesh (WATCH)
Indian Air Force's Apache helicopter made an emergency landing in Madhya Pradesh's Bhind. Officials said that the pilot noticed a technical fault in the chopper, and decided to make a precautionary landing.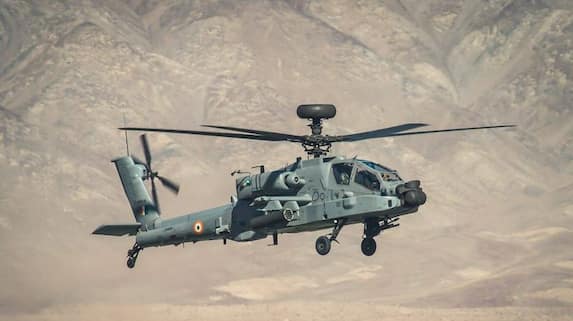 An Apache attack helicopter of the Indian Air Force (IAF) made a precautionary landing in a field at a village in Madhya Pradesh's Bhind district on Monday, during routine operational training. According to an official statement from the IAF, no casualties were recorded in the incident, and both the crew and the aircraft are safe.
"The rectification party has reached the site," IAF said. The district administration is also on the landing site and an investigation is underway.
The pilot had to make precautionary landing after detecting some technical glitches in the helicopter. As per an official, "A major accident averted due to the pilot's presence of mind."
The Apache attack helicopter that was forced to make a precautionary landing in Madhya Pradesh's Bhind is the second incident involving the war machine that is part of the Indian Air Force fleet
Prior to the Bhind incident, the chopper had made an emergency landing on April 17, 2020 at the Hoshiarpur district's Indora in Punjab. The chopper had been airborne from Pathankot air base and after flying for an hour it developed critical failure, forcing the pilot to land it at a safer place. "No damage to crew and aircraft were reported."
Know about Apache chopper:
The Boeing-made Apache AH-64 helicopter is considered to be the most advanced multi-role combat helicopter in the world. The IAF has a fleet of 22 AH-64E Apache attack helicopters with two squadrons based at Pathankot and Jorhat.
Equipped with fire-and-forget Hellfire missiles, an Apache can track up to 128 targets a minute and prioritise threats. The missiles equip the gunships with heavy anti-armour capabilities.
In 2015, India signed a contract worth USD 1.1-billion with US defence major Boeing for acquisition of 22 Apaches. Besides, India has also inked a deal in 2020 for acquiring six Apache choppers for the Indian Army worth $930 million.
Last Updated May 29, 2023, 12:22 PM IST