Heartwarming train exchange! Man's cookie gesture to artist leads to unexpected response - WATCH
A heartwarming train journey moment where strangers exchanged kindness and art goes viral on Instagram, showcasing the beauty of human connections.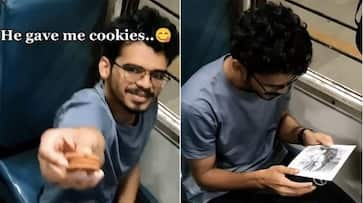 On a recent train journey, a heartwarming act of kindness took place, capturing the essence of human connection and generosity. In a video shared on Instagram by the popular artist @thejus_arts, two strangers on a train shared a beautiful moment that left smiles all around. The video has garnered over 14.7 million views and 1.5 million likes.
In the video, a bespectacled man spontaneously offered cookies to the artist. In a delightful twist, the artist decided to express his gratitude in a unique way – by creating a portrait of the generous cookie-giver. The exchange was filled with warmth and camaraderie, exemplifying the beauty of human interactions.
The caption accompanying the video read, "He gave me cookies. See what I have given to him," emphasizing the unexpected joy that can result from simple acts of kindness.
The video quickly garnered an outpouring of comments and reactions, with many viewers expressing their appreciation for the heartwarming moment. One user commented, "He got a precious gift in return; it looks like a scene out of a good movie." Another user reflected, "This is the hope which makes us believe that this planet is still livable," while another summed it up with, "This video gave a heartfelt smile on my face!"
In a world filled with hustle and bustle, this touching encounter serves as a reminder of the power of small gestures and the profound impact they can have on our lives.
Last Updated Sep 19, 2023, 7:29 PM IST