Geologist's murder in Bengaluru flat: Police probes raids carried out by lady officer
Prathima, a geologist in the Mines and Geology Department, was brutally stabbed to death at her Bengaluru residence while her husband and son were away. Known for her dynamic and fearless approach to her work, she had earned a strong reputation in the department for her diligence.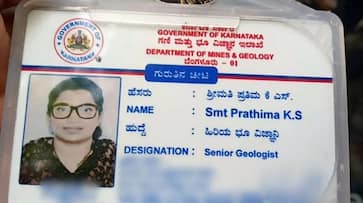 The brutal murder of Prathima KS, a lady officer employed with the Karnataka government, has sent shockwaves across the state. The tragic incident occurred in Bengaluru, where she was stabbed to death at her residence on Saturday night. The 45-year-old officer's husband and son were away in the Shivamogga district at the time of the heinous crime. Prathima KS, a geologist, was a valued member of the Mines and Geology Department in Karnataka. She was known for her unwavering dedication and had garnered an excellent reputation within the department for her hard work and courage.
A senior officer from the Karnataka Environment Department spoke to the media and described Prathima as a "very dynamic lady" who fearlessly carried out her duties. Whether it was conducting raids or taking action against wrongdoers, she had made a significant impact. Notably, she had recently led operations against illegal mining and the sand mafia, demonstrating her commitment to upholding the law.
Prathima's educational journey began at Tunga College in Thirthahalli, and she later earned an MSc from Kuvempu University. In 2008, she embarked on her career as a geologist in the Mines and Geology Department, eventually rising through the ranks to become a senior geologist and Deputy Director in Bengaluru Rural.
The tragic events of that fateful Saturday night unfolded as follows: Prathima's driver dropped her off at her residence after work, and the horrifying incident took place around 8:30 p.m. Her brother, who arrived at her home early on Sunday, made the grim discovery of her lifeless body. Concerned as he had called her the night before without receiving a response, he promptly alerted the police.
Law enforcement authorities swiftly launched an investigation, deploying forensic and technical teams to the crime scene. Three specialized teams were formed to delve into the circumstances surrounding the murder. Police officer Rahul Kumar Shahapurwad stated that additional information would be shared once a clearer understanding of the incident was obtained.
Karnataka Chief Minister Siddaramaiah, upon learning of the tragedy, pledged a rigorous investigation into the murder. He assured the public that those responsible for this heinous act would be brought to justice. While the motive behind the crime remained unclear, the Chief Minister expressed his intention to uncover the truth.
Last Updated Nov 6, 2023, 11:48 AM IST