Free speech cannot be hate speech: Madras HC on plea against college seeking views on 'Opposition to Sanatan'
Madras High Court's recent verdict delves into the enduring principles of Sanatan Dharma, the boundaries of free speech, and the constitutionality of untouchability. The observation came during a legal discourse sparked by a college's controversial inquiry and its resonance amidst a national debate.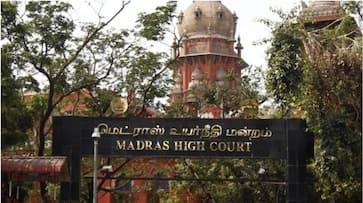 The Madras High Court has emphasized that Sanatan Dharma encompasses a comprehensive set of enduring duties and underscored that untouchability is no longer constitutionally acceptable. In a case involving a Tamil Nadu college's request for students' opinions on 'Opposition to Sanatan,' Justice N Seshasayee asserted that "free speech cannot be hate speech." The circular issued by the principal of Thiru Vi Ka Govt Arts College in Thiruvarur, seeking students' views on 'Opposition to Sanatan' to commemorate the birth anniversary of former CM CN Annadurai, had previously been withdrawn.
Justice N Seshasayee's remarks, made on Friday, coincided with the nationwide controversy sparked by state minister Udhayanidhi Stalin's recent comments against Sanatan Dharma.
'Everybody free to voice opinion': Congress holds key meeting in Hyderabad
The Justice elaborated that Sanatan Dharma encompasses a range of duties, including obligations to the nation, the monarch's responsibilities to the people, filial duties, reverence for mentors, and compassion for the underprivileged. He also addressed the issue of untouchability, which had been a focal point of Udhayanidhi's statements when he likened Sanatan Dharma to a malady.
Justice Seshasayee emphatically stated that untouchability, whether within or outside the realm of Sanatan Dharma, is no longer in accordance with the Constitution. Despite its unfortunate existence, it cannot be tolerated in a nation of equal citizens. He stressed that even if it were deemed permissible within the tenets of 'Sanatan Dharma,' it has no place to persist since Article 17 of the Constitution has abolished untouchability.
Karnataka: India's largest gas storage tunnel to be built in Mangaluru; check details
On PM Modi's 73rd birthday, go to NaMo app to share your 'Seva Bhaav'
Last Updated Sep 17, 2023, 8:42 AM IST