On PM Modi's 73rd birthday, go to NaMo app to share your 'Seva Bhaav'
On Prime Minister Narendra Modi's 73rd birthday, millions of well-wishers use the 'NaMo' app to send greetings and express their support. This app has evolved into a hub for public involvement in nation-building efforts, promoting the spirit of 'Seva Bhav' or service mindset.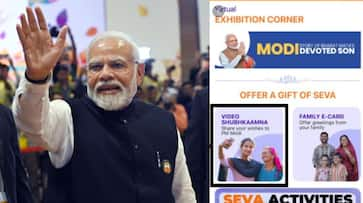 Prime Minister Narendra Modi turned 73 on Sunday, an occasion eagerly awaited by both his devoted supporters in India and admirers worldwide. Every year, PM Modi is inundated with a deluge of warm wishes and greetings from his followers and fellow citizens.
Among the most favoured platforms for expressing birthday felicitations to India's preeminent leader is the 'NaMo' app. On his 73rd birthday, millions will once again turn to this mobile application to convey their heartfelt wishes to PM Modi.
Beyond its role as a conduit for birthday greetings, the NaMo app has evolved into a leading online forum that connects people with tangible efforts aimed at advancing the nation's progress and development. It seamlessly blends technology with the principle of 'Jan Bhagidari' or public involvement.
By inspiring users, whether they are Karyakartas (BJP workers) or ordinary citizens, to embrace the spirit of service or 'Seva Bhav,' the 'NaMo' app empowers them to articulate their commitment to nation-building. It encourages them to play a pivotal role in advancing the nation through their individual but substantial contributions. Here's the link for the module: https://nm-4.com/Seva
Through this application, not only can citizens express their pride in the leader's accomplishments, but they can also offer their warm birthday wishes in a meaningful way. The app allows users to select specific areas or fields where they can contribute towards the overarching objective of nation-building. Users can solemnly pledge to channel their efforts towards this noble cause.
Moreover, users can share images of their 'Seva Activities' to earn badges. The app offers nine distinct 'Seva Activities' for users to document their involvement. These earned badges can be shared on social media and with their circle of friends and family, motivating others to embark on similar endeavours that will shape the nation's future.
The 'NaMo' app also facilitates micro-donations ranging from Rs 5 to Rs 100 towards various central initiatives. These initiatives encompass endeavours such as the 'Swachh Bharat Mission,' 'Beti Bachao Beti Padhao,' and 'Kisan Seva.' Users have the opportunity to support causes close to their hearts through these micro-donations.
Last Updated Sep 17, 2023, 8:08 AM IST