Karnataka: India's largest gas storage tunnel to be built in Mangaluru; check details
Mangaluru is constructing India's largest LPG gas storage tunnel, with an 80,000 metric ton capacity, set to be inaugurated by December. Led by HPCL, the facility aims to ensure secure gas supply for national defense. It's the third underground storage project in the region, following oil storage facilities in Permude and Padur.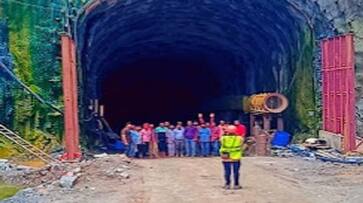 Karnataka's Mangaluru is set to host India's largest LPG gas storage tunnel, currently under construction and expected to be inaugurated by the end of December. This significant underground storage facility is being established by the central government to ensure a secure gas supply in emergency situations for national defence.
The Hindustan Petroleum Corporation Limited (HPCL), a government-owned entity, is leading the construction of this underground LPG storage facility in Mangaluru. Notably, this marks the third underground storage project initiated by the Union Petroleum Ministry in the region. Prior to this, underground crude oil storage facilities were successfully built and are operational in Permude, Mangaluru, and Padur, Udupi.

Mangaluru: Nursing student from Kerala pretends to be RAW agent, gets detained
This underground LPG storage facility in Mangaluru Special Economic Zone (MSEZ) boasts an impressive capacity of 80,000 metric tonnes, with an estimated cost of Rs 350 crore. To facilitate this massive project, LPG gas will be supplied from the Arabian Sea to the underground storage through an existing pipeline connected to large ships.
The central government granted approval for the construction of this underground LPG storage facility in Mangaluru in 2018, and work commenced a year later. Installation of pipelines for gas supply from the seabed to the underground storage has already been completed. About 83% of the work is completed This extensive project involves drilling through substantial rock formations and constructing a tunnel at a depth of 500 meters.
Mangaluru's underground oil storage facilities in Permude and Padur are already operational, serving as reserves for emergency crude oil storage in the nation. Permude's underground oil storage capacity stands at 1.5 million metric tonnes, valued at Rs 1,227 crore, with two compartments operational since October 2016. The Padur oil storage facility boasts a capacity of 2.50 million metric tonnes and was completed in 2010 at a cost of Rs 1,693 crore, featuring four compartments and was commissioned in December 2018.
India's first two-compartment underground oil storage facility in Visakhapatnam became operational in June 2015. This facility has a capacity of 1.33 million metric tonnes, with a cost of Rs 1,178.35 crore, and was constructed by the Indian Strategic Petroleum Reserves Limited (ISPRL) under the Union Ministry of Petroleum.

Mangalore buns to Goli Baje: 7 Mangalorean dishes to savour during rains
This initiative represents India's most significant underground gas storage project, led by the centrally-owned HPCL in Mangaluru. It is aimed at enhancing national preparedness during emergencies and is expected to be completed and inaugurated by December, according to MP Nalin Kumar Kateel.
Dinesh Holla, the Convenor of Mangaluru Sahradri Sanchaya, expressed concerns about the project. He said, "Any plans for coastal development will need approval. However, it appears that the project has already exceeded its carrying capacity. We must ensure that the environment is not harmed. These projects could potentially harm the three subsoil layers responsible for groundwater accumulation. Therefore, preserving the land is crucial."
Last Updated Sep 16, 2023, 10:01 AM IST