Delhi schools, colleges reopen today as air quality remains in 'very poor' category
After a slight improvement on Sunday, the air quality in Delhi again dropped to the 'very poor' category on Monday morning. All schools and colleges in Delhi will reopen from Monday (November 20).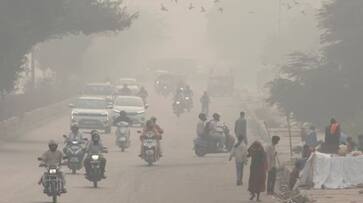 Monday's air quality in Delhi remained in the "very poor" category, as citizens awoke to the typical images of dense haze engulfing the city. According to statistics from the Central Pollution Control Board (CPCB), the AQI was 331 at six in the morning on Monday.
By 8 am, the air quality in RK Puram was recorded at 346, at 342 in New Moti Bagh, at 318 in the IGI Airport area, 364 in the Anand Vihar area, and at 383 in Nehru Nagar, with most categorized as 'very poor' AQIs. The city witnessed a slight improvement on Saturday as the 'Severe' air quality changed to 'Very Poor', which has remained in the category since then.
As winter draws near, the national capital's temperature also dropped, with the India Meteorological Department (IMD) reporting 13.5 degrees Celsius and 1500 metres of visibility.
Also Read | UFO sighted in Manipur? Imphal airport on high alert after unidentified object spotted
In light of the decrease in air pollution levels brought on by favourable wind speed and direction, the Centre lifted strict limits on Saturday, including a prohibition on construction activities associated with linear projects and the admission of trucks that emit pollution into Delhi. Another government directive stated that since the AQI has improved and there is no sign of a significant decline anytime soon, all Delhi schools would reopen on Monday, November 20.
On Sunday, Environment Minister Gopal Rai urged people to be vigilant and highlighted the need to continue following the rules, as stages 1, 2 and 3 of GRAP are still in place to tackle air pollution in the national capital. 
Rai noted that though there has been a consistent improvement in air quality, people still need to remain vigilant to maintain this improvement. He further added that over the last two days, there has been a steady improvement in pollution levels.
Also Read | Uttarkashi tunnel collapse: Vitamin supplements, anti-depressants, dryfruits and more given to workers
Last Updated Nov 20, 2023, 10:01 AM IST