UFO sighted in Manipur? Imphal airport on high alert after unidentified object spotted
Three flights at Imphal airport were grounded on the tarmac for more than three hours, and two incoming flights were diverted to Kolkata after air traffic controllers reported an unidentified flying object near the runway.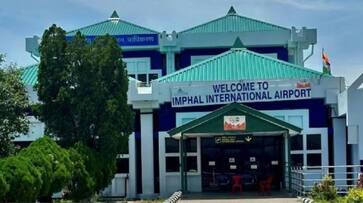 Imphal's Bir Tikendrajit International Airport experienced a four-hour shutdown on Sunday afternoon due to a high alert triggered by the sighting of a high-altitude unidentified object over the airport. The object was spotted by CISF personnel and the air traffic control (ATC), prompting the suspension of operations around 2:30 pm and left approximately 500 passengers from three outbound flights stranded.
Three flights scheduled to depart from Imphal to Agartala, Guwahati, and Kolkata around 3 pm were halted until 6 pm. Additionally, a flight from Delhi to Imphal was diverted to Kolkata. Another flight from Guwahati to Imphal, initially suspended, later departed at 6:50 pm.
Also read: 'Earth's annihilation a certainty': Elon Musk's urges multiplanetary future amid alien enigma (WATCH)
Following the sighting, airport authorities promptly closed the "controlled airspace" in Imphal, halting all flight operations. Operations resumed at 5:30 pm.
The identity of the object remains unclear, but reports suggest that the Directorate General of Civil Aviation (DGCA) and the Indian Air Force (IAF) are collaboratively investigating the matter.
Meanwhile, an NDTV report stated that the Airports Authority of India (AAI) transferred control of the airspace to the IAF. Subsequently, the IAF provided clearance to reopen the airspace for commercial flight operations. 
Imphal airport director Chipemmi Keishing confirmed the unidentified object's sighting in a statement. Keishing mentioned that all three flights eventually took off once the "competent authority" provided security clearance.
Last Updated Nov 19, 2023, 7:29 PM IST