Bengaluru's elusive leopard captured after intensive effort (WATCH)
Forest officials successfully captured the elusive leopard that had been causing concern in Kudlu Gate and Bommanahalli. The operation faced challenges as the leopard hid in thickets, but drone visuals aided in tracking its movements. Sharpshooters, using firecrackers, encouraged the leopard to leave its hiding place, leading to a safe capture by the forest department staff.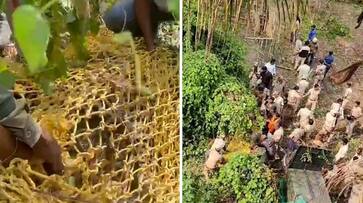 The intense efforts of the forest officials have proved fruitful with the leopard being captured alive, from the bushes. The elusive leopard that had been making headlines with its sightings in Kudlu Gate and Bommanahalli has been caught inside the net. The leopard's presence had been causing concern among residents, prompting an extensive search operation.
The journey to the leopard's capture was fraught with challenges, as it had sought refuge in thickets and bushes, making it difficult for the forest officials to locate it. The diligent forest guards and sharpshooters combed the area thoroughly, inspecting each place where the leopard was believed to be hiding.

Leopard spotted in Bengaluru: People on high alert as officers launch search operation in Bommanahalli (WATCH)
Drone visuals provided a crucial aid in spotting the leopard, allowing officials to track its movements from one bush to another. As the bush behind a dilapidated building was meticulously cleared, sharpshooters prepared to make their move, aiming to capture the leopard.
To encourage the leopard to leave its hiding place, firecrackers were strategically ignited for the second time, a tactic that had been previously employed by the forest department. Their efforts were successful, and the cunning leopard was finally captured. The forest department staff, holding a trap, had been carefully observing the leopard in the thicket, ensuring a safe and successful capture.
Last Updated Nov 1, 2023, 3:15 PM IST