Bengalureans roast Karnataka govt over idea to levy congestion tax on 9 city roads
The government is considering a "congestion tax" on nine major roads in Bengaluru, including the Outer Ring Road, during peak hours to alleviate traffic congestion. The tax would encourage public transportation use. However, this proposal has faced public criticism, with citizens calling for improved infrastructure and public transport instead. The government aims to reduce private vehicle use during peak times.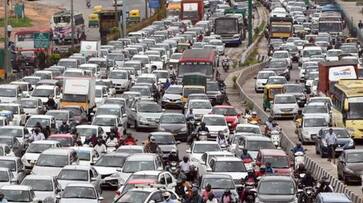 The Karnataka government is assessing the implementation of a 'congestion tax' on nine specific roads in Bengaluru, including the Outer Ring Road, during peak hours as a measure to ease the city's constant traffic congestion. This proposed congestion charge is designed to prevent the use of private vehicles during peak hours and promote the use of public transportation, which can significantly reduce the traffic surge. 
To collect this tax, authorities are exploring the utilization of the FASTag system, a technology used for electronic toll collection on highways. The recent headline-grabbing traffic jam on Bengaluru's Outer Ring Road, where vehicles were stuck for nearly four hours during evening peak hours, underscores the urgency of addressing the city's traffic woes.

Bengaluru: Govt plans to impose 'Congestion Tax' on motorists to ease traffic congestion
Bengaluru currently witnesses the daily entry of 12 million vehicles, leading to significant time and fuel wastage due to frequent traffic jams. To address this issue, a report titled 'Karnataka's Decade -- Roadmap to $1 Trillion Economy' has recommended the imposition of a congestion tax on nine specific roads during peak hours.
The proposed high-density corridors for congestion charges include the Outer Ring Road (ORR), Sarjapur Road, Hosur Road, Old Airport Road, Old Madras Road, Ballari Road, Bannerghatta Road, Kanakapura Road, Magadi Road, West of Chord Road, and Tumakuru Road.
However, the government's proposal to impose a congestion tax has faced criticism from the public. Many citizens have expressed their dissatisfaction with the government's approach, emphasizing the need for improved road infrastructure and better public transport services instead of taxing commuters further.

Bengaluru woman shares photo of peeling vegetables during standstill traffic, Tweet goes viral
Social media has been abuzz with criticism of the government's decision. Users have questioned the allocation of tax revenues and the necessity of introducing a congestion tax when the city's infrastructure remains inadequate.
In a sarcastic tweet, a user with the handle @humanprojector asked, "Is there a tax yet on 'by 2 filter coffee? Asking for a friend..."

Brand Bengaluru: Karnataka govt seeks to collect fees on traffic-congested roads in IT hub
One user, Jasmine Nongrum, expressed frustration, stating, "Karnataka government, Shame on you. Instead of making the roads commutable and providing public transport facilities, you plan to charge congestion tax? What are you doing with all the tax money we have been paying? #Bangaloreans need an answer."
Another user criticized the government's focus on revenue generation, saying, "Bengaluru's notorious traffic woes never seem to end. However, the government, instead of trying to increase the infrastructure, has been planning to derive money from the citizens' woes."
Additionally, the recent decision to ban carpooling in the state has faced criticism from citizens who believe that carpooling is essential to combat the city's high traffic rates. However, it's important to note that whiteboard vehicles are not permitted to participate in carpooling in the state.

Bengaluru Choke: Long weekend results in gridlock at Nandi Hills (WATCH)
Another user humorously remarked, "Now Bengaluru govt will add Nandi Hills as the 10th road for Congestion Tax." This comment was made in reference to a recent traffic surge to the popular weekend destination of Nandi Hills, which resulted in significant congestion.
Despite the backlash, the government's objective in implementing a congestion tax in Bengaluru is to reduce the use of private vehicles during peak hours, with the hope that this measure will have a positive impact on relieving the city's traffic woes.
Last Updated Oct 4, 2023, 1:38 PM IST