Batmobile and more: Surprise parade of iconic Hollywood vehicles in Bengaluru goes viral - WATCH
The article discusses the appearance of iconic Hollywood-inspired vehicles, including the Batmobile, in Bengaluru, potentially as part of a marketing campaign by the fintech company Cred.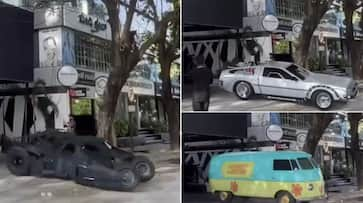 In the bustling city of Bengaluru, it seems that the Bat Signal has been summoned, indicating the presence of Batman – or at the very least, the Batmobile. A recent video shared by a user on X, formerly known as Twitter, has captured the attention of Hollywood fans and automotive enthusiasts alike. In this intriguing footage, four remarkable automobiles emerge from what appears to be the garage of a corporate office located in Bengaluru's vibrant Indiranagar.
These are no ordinary vehicles; they are the stuff of dreams for any ardent movie buff. In a grand procession, the following iconic vehicles make their appearance: first, a faithful recreation of the van from the beloved 'Scooby Doo' franchise; next, the DeLorean from the timeless 'Back To The Future' series; followed by 'Bumblebee' from the action-packed Transformers universe; and to top it all off, the unmistakable 'Batmobile,' a vehicle that requires no introduction.
The building housing this intriguing garage bears the name 'Cred,' a fintech company renowned for its whimsical and attention-grabbing advertisements. This connection has naturally sparked speculation that these impressive cars may be part of an upcoming marketing campaign devised by the company.
Social media users couldn't help but inject some humor into the conversation. One user humorously posted a picture of 'Taarzan: The Wonder Car,' half-jokingly anticipating its emergence from the garage next. For those unfamiliar, 'Taarzan: The Wonder Car' is a 2004 Indian film centered around a car possessed by a man's spirit, seeking vengeance for his murder.
While these vehicles are undoubtedly inspired by works of fiction, one user couldn't resist commenting on the very real and legendary traffic jams that frequently plague Bengaluru. They quipped, "What's the point of having such expensive cars when you're just going to get stuck in Bengaluru's traffic snarls?"
Others on social media shared imaginative illustrations of a 'desi Batman' and contemplated the fate of the Batmobile should it encounter one of India's notorious speed breakers on its urban adventures.
Last Updated Sep 28, 2023, 3:32 PM IST