Asia's first women's police station in Kerala to turn 50 on October 27
Asia's first women police station is celebrating its 50th birthday on October 27. A 10 day program is being organised at the station.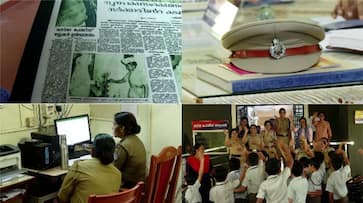 Kozhikode: India's first women's police station will turn 50 on October 27. The police station was inaugurated by former Prime Minister Indira Gandhi in 1973 in Kozhikode. Kerala Governor N.N. Wanchoo, Chief Minister C. Achutha Menon and Home Minister K. Karunakaran were also present for the inauguration.
A 10-day programme is being organised at the station in connection with the golden jubilee. The station was started with the aim of giving special attention to cases where the complainants and the accused are women.
The station's golden jubilee celebrations started on Monday (Oct. 16) with 50 police officers donating blood to the blood bank at the Women and Children's Hospital at Kottaparamba in Kozhikode. Mayor Beena Philip inaugurated the event. On Tuesday, a hair donation drive for cancer patients also received a positive response from the personnel.
Indira Gandhi proposed the concept of a women's police station during a period of increasing crimes against women in the country. Currently, there are about a thousand women police stations across the country.
Padmini Amma from Thiruvananthapuram was the first SI in the women's station. The first case registered in the station was the missing case of three children.
The first women's police station will be active with programs like medical camp, night walk, women's cricket and so on till October 27
Last Updated Oct 19, 2023, 6:34 PM IST