4 more lives lost, now 35 dead in 48 hours at government hospital in Maharashtra
This series of fatalities at the Shankarrao Chavan government hospital has raised concerns about staffing levels and medication supply. While the hospital disputes claims of medicine shortages, an inquiry has been ordered by Maharashtra Chief Minister Eknath Shinde to investigate the situation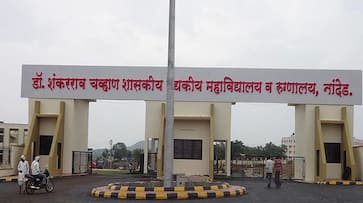 The death toll in Nanded district's government hospital in Maharashtra has risen to 35, with four more patients succumbing on Tuesday, marking a total of 35 deaths within 48 hours. The Shankarrao Chavan government hospital has experienced a series of fatalities over the past two days, with 31 patients losing their lives, including 16 infants and children. The condition of 71 patients at the hospital remains critical.
Accusations of inadequate staffing and medication shortages have been levelled against the hospital. The hospital's dean explained that the scheduled procurement of medicines from the Haffkine Institute, the source of medicines for government hospitals in the state, did not occur as planned.
However, the hospital has issued a statement refuting claims of medicine shortages and stating that the patients were in their "last stage."
"Twelve adult patients were admitted to the hospital, consisting of five men and seven women. Among them, four were experiencing heart attacks, one was suffering from a snake bite, another had kidney disease, and three were accident victims. All of these patients were in critical condition. Additionally, the hospital received four children who were also in extremely severe conditions," as stated by Nanded's Shankarrao Chavan government hospital.
They mentioned an allocation of Rs 12 crore for medicine procurement, with an additional Rs 4 crore in the process, ensuring an ample supply of medicines. Hospital staff and doctors have been attending to an increased number of patients in recent days.
Maharashtra Chief Minister Eknath Shinde expressed grave concern over the hospital deaths and assured a detailed inquiry, denying any shortages of medicines or staff. He stated, "The deaths are unfortunate. We have taken the incident very seriously. An inquiry has been ordered, and action will be taken appropriately."
The opposition in Maharashtra criticized the state government, calling for accountability, especially in the context of the "triple-engine sarkar" comprising the BJP, Eknath Shinde Sena, and the Ajit Pawar faction of NCP. This incident occurred less than two months after 18 patients died in 24 hours at Chhatrapati Shivaji Maharaj Hospital in Kalwa, Thane, in August, with 12 of them being over the age of 50.
Last Updated Oct 4, 2023, 8:01 AM IST