4 reasons you should buy iPhone 15 rather than iPhone 15 Pro
iPhone 15 vs iPhone 15 Pro: Here are 4 reasons to choose iPhone 15 over iPhone 15 Pro; dull color options, significant updates, same storage, and no change in charging speed.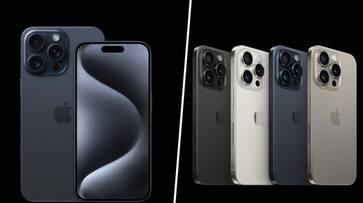 The much anticipated iPhone 15, iPhone 15 Pro, iPhone 15 Plus, and iPhone 15 Pro Max were recently introduced by Apple in India. The devices will officially go on sale. The Pro variant of the iPhone 15 series features A17 Pro chip, a titanium design and an Action button.
It's interesting to note that the Apple Pro series is in great demand and creating a lot of talk in the tech community. The demand for the recently announced iPhone 15 Pro Max is robust and surpasses that of the iPhone 14 Pro Max from the prior year, according to analyst Ming-Chi Kuo.  
Also Read | OnePlus foldable phone confirmed to launch soon; might debut on October 19
Colours
Colours like Blue Titanium, Natural Titanium, White Titanium, and Black Titanium are relatively dull on the iPhone 15 Pro versions. Compared to the vivid and bright colour options available with the iPhone 15, these colour options are not particularly attractive. Additionally, according to specialists in the field, Apple probably selected these neutral hues because of the smartphone's titanium build. 
Also Read | Google Pixel Watch 2 may feature enhanced health features like thermometer: Report
Major upgradation in iPhone 15
The regular iPhone 15 has been upgraded significantly by Apple, providing exceptional value for your money. First off, it has the Dynamic Island cutout, which was first debuted with the iPhone 14 Pro, and a 48MP main camera. The display has also been improved, and it can now produce a stunning 2,000 nits of brightness for outdoor use. The iPhone 15 now offers a viable alternative to the iPhone 15 Pro thanks to significant upgrades made by the California-based tech titan. It provides a significantly cheaper price point while giving up only a few capabilities, such as ProMotion and a 5x telephoto camera system, starting at only Rs 79,900.
Also Read | Google Pixel Watch 2 may feature enhanced health features like thermometer: Report
Camera and Storage
The 48MP primary camera on the iPhone 15 Pro is capable of recording 4K/60FPS ProRes films and taking ProRAW photos, both of which may take up a lot of storage space. However, the gadget still comes with 128GB of storage space, which might not be enough for pros who want to make the most of the camera's features. Apple has not given the iPhone 15 Pro a bigger beginning storage space despite the fact that it can now take images in HEIF at a resolution that is four times higher than before.
Also Read | Redmi Note 13 series to launch in China on September 21; Here's what we know so far
Same charging speed
Tom's Guide claims that the iPhone 15 Pro continues to charge at the same 20W rate that Apple has been using for a while. According to the study, there may have been a reasonable expectation for the Apple Pro model to at least try to equal the 45W charging speeds found in smartphones like the Galaxy S23 Plus and Galaxy S23 Ultra.
Also Read | iPhone 15 series: Did you know your phone will stop charging beyond 80% to improve battery life?
Last Updated Sep 21, 2023, 1:38 PM IST