OnePlus foldable phone confirmed to launch soon; might debut on October 19
While the company just revealed that the OnePlus foldable will be announced soon, known tipster Max claimed on Twitter that the phone will arrive on October 19. It is expected to be cheaper than Samsung folds.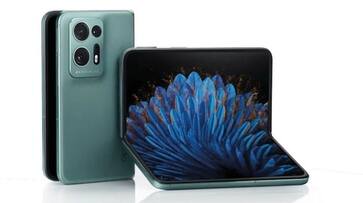 At TechCrunch Disrupt 2023, OnePlus made a significant technological announcement that confirmed the company's entry into the foldable phone market. OnePlus' Creative Director for Product, Zeng Xi, revealed everything at a special event on "How to Stay Ahead in the Tech Game." The OnePlus foldable will soon be released, but Max, a well-known leaker, asserted on Twitter that it will launch on October 19.
The smartphone will reportedly be dubbed the OnePlus Open, according to the leaks so far, although OnePlus hasn't confirmed this and is instead merely referring to it as a foldable phone. The new foldable phone has a long way to go before it hits the market, but leaks have given us a solid idea of what to anticipate in terms of features.
Also Read | Vivo V29 series India launch date CONFIRMED! Here's what you can expect
Additionally, the price information has leaked, indicating that the OnePlus phone would be somewhat less expensive than Samsung's foldable phones. If this is the case, it won't come as a surprise because OnePlus has used the same pricing model for earlier phones in an effort to compete fiercely with established tech titans and provide customers a better overall value.
According to the source, the company's first foldable phone may resemble the Oppo Find N2, a book-shaped foldable that debuted in 2022. An octa-core Qualcomm Snapdragon 8 Gen 2 SoC is expected to power the company's first foldable device. A 7.8-inch 2K AMOLED primary panel and a 6.3-inch AMOLED cover display are reportedly included in the smartphone. Both displays should have a refresh rate of 120Hz.
Also Read | Google Pixel Watch 2 may feature enhanced health features like thermometer: Report
The OnePlus Open is anticipated to include three cameras: a 32-megapixel camera with a periscope lens on the back, a 48-megapixel camera with a wide-angle lens, and a 50-megapixel camera with optical image stabilisation (OIS). The tipster says that the OnePlus Open could feature a periscope lens with 3x optical zoom.  For selfies, it could feature two 32-megapixel front-facing cameras, as per leaks.
Also Read | Google Pixel Watch 2 may feature enhanced health features like thermometer: Report
Last Updated Sep 21, 2023, 12:15 PM IST