iPhone 15 series: Did you know your phone will stop charging beyond 80% to improve battery life?
The iPhone 15 series was launched on September 12. All of the iPhone 15 phones have a new setting to preserve battery life. You can stop charging the phone beyond 80 per cent. This is likely to prolong the battery life of the iPhone 15 models.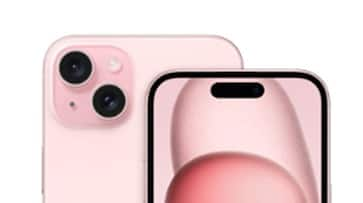 Apple hosted its biggest event of the year, Wonderlust, on September 12 and the much-awaited iPhone 15 lineup was unveiled during the event. The iPhone 15, iPhone 15 Plus, iPhone 15 Pro, and iPhone 15 Pro Max were the four newest iPhone models to be released. The USB Type-C charging is one of the significant modifications that Apple made with the iPhone 15 series.
People were ecstatic when it was announced that Apple will be saying goodbye to the lightning charging connector, which has been the subject of rumours for some time. And now, according to the most recent rumours, the iPhone 15 could potentially contain another function that might aid in improving the health of its battery.
Also Read | iPhone 15 series: Here's why you should prefer buying AppleCare+ & how much will it cost
According to a Q and A session hosted by The Verge, the entire iPhone 15 lineup has a setting that prevents the phones from charging beyond 80 per cent. Your phone will never charge more than 80% when this setting is active. Since it is known that charging your phone to 80% rather than 100% will extend its battery life, doing this can increase the phone's total battery life.
Apple previously had a feature called "Optimised Battery Charging" that prevented your phone from charging over 80%. This new setting on the iPhone 15 is distinct from others, though.
Additionally, the iPhone 15 series includes three settings options: Battery, Battery Health & Charging, and Charging Optimisation. Specifically speaking, there are three storage options available for the iPhone 15 and iPhone 15 Plus: 128GB, 256GB, and 512GB.
Also Read | Apple releases iOS 17: Here's a step-by-step guide to download latest software update
The 128GB and 256GB versions of the iPhone 15 are each priced at Rs 79,900 and Rs 89,900, respectively. The price of the 512GB version is Rs 1,09,900. The iPhone 14 was introduced for the same price last year as well.On September 22, India will begin selling the iPhone 15 in all of its versions. Pre-orders for the gadgets started on September 15 as well. 
Last Updated Sep 20, 2023, 12:00 PM IST