Google Pixel Watch 2 may feature enhanced health features like thermometer: Report
Pixel Watch 2 will be launching in India this year and the new smartwatch could see major upgrades with the health features. Reports say Google could bring an improved electrodermal activity (EDA) sensor which helps with tracking your stress levels, something that Apple Watch has mastered over the years.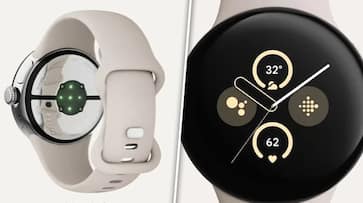 Google could use its Fitbit acquisition to improve the features of the upcoming Pixel Watch 2 smartwatch. While the firm has teased the look of the second-generation Pixel Watch, which will be on sale early next month, we are progressively learning more about the functions that the Pixel Watch 2 could include this year.
The next smartwatch from Google will most likely be powered by a Snapdragon W5 series CPU and ship with Wear OS 4.0 out of the box. But like with every wearable, everyone's attention will be focused on the additional health features that the Pixel Watch 2 will offer, and the list is anticipated to be intriguing.
According to reports, Google may introduce an enhanced electrodermal activity (EDA) sensor, which aids in detecting your stress levels—a function Apple Watch has perfected over time. If these sensors are given the alert feature in the Pixel Watch 2, it will be fascinating to see how much more helpful they become.
But an internal thermometer that can be used to check your temperature is said to be the Pixel Watch 2's primary selling point. This capability was previously available on the Fitbit logical 2, and because Google now owns the company's technology, it only makes logical to include it in the Pixel Watch range as well.
According to rumours, Google will also include a built-in temperature sensor in the Pixel 8 Pro variant. On October 4, at the same event in New York City, the phones and the Pixel Watch 2 will both go on sale.
The Pixel Watch 2 will have a slick design and thin bezels on the display, as seen by the design teasers. The Pixel Watch 2 and the Pixel 8 series will both arrive in India around the same time next month, according to Google. Google may release the Pixel Watch 2 with both Wi-Fi and LTE connectivity.
Last Updated Sep 21, 2023, 10:55 AM IST