Vicky Kaushal reveals secret about how he fell in love with Katrina Kaif
Vicky Kaushal talks about his courtship with Katrina Kaif in detail. The actor admitted that they had been committed to one another from the start.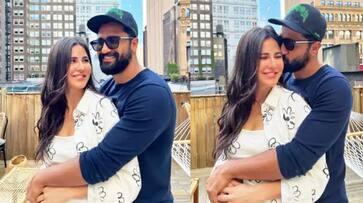 For the first time, icky Kaushal has been open about his marriage to actress Katrina Kaif. Vicky and Katrina were married in December 2021 after dating for two years. The actor of Sardar Udham has now revealed how he and Katrina became close. Vicky mentioned during his appearance on We Are Yuvaa's Be A Man Yaar segment that he originally found it hard to accept that a famous person like Katrina was focusing on him.
"I had trouble coming to terms with that reality that I can," he told host Nikhil Taneja. "Those factors were never the reason why I fell in love with Katrina. When I got to know the human side of her, I fell in love with her. When I got to know her, I was fully in love with her, and I knew that I would want to have her as my life companion. Nothing else matters. First, I used to feel odd getting attention from her. I used to be like 'Heh? Are you okay?' Not that I wasn't giving a lot of attention, it was mutual. For me also, being from the outside and not knowing her as a human being, she was a phenomenon. She still is. It's just that the human side also added."
ALSO READ: Joe Jonas shares THIS sexy photo with Sophie Turner to end divorce rumours
Even though she is a nice human being, Vicky said, "Shuru shuru me clearly lagta tha 'Why me?' (at first, I used to query too). The actor went on to say that he had text her to ask her out for dinner before they started dating. Vicky claimed that from the start of their relationship, they had been very serious about one another. The problem is that during our courtship, there was never a moment when she might say yes or no when I asked her to marry me. The seriousness of this situation was something we just realised from the start. We were aware that our goal was to find something long-lasting.
ALSO READ: Kushi star Vijay Deverakonda to donate Rs 1 crore to 100 families; read details (Video)
Last Updated Sep 5, 2023, 12:37 PM IST