Joe Jonas shares THIS sexy photo with Sophie Turner to end divorce rumours
Singer Joe Jonas apparently reacted to the ongoing reports and rumours of his divorce from Sophie Turner. He posted a new photo to scrap rumours with no caption.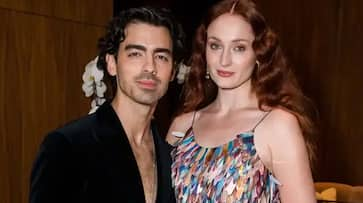 With his new photo, singer Joe Jonas appears to have ended rumours of his divorce from Sophie Turner. The Jonas Brothers singer, currently on tour with Nick and Kevin Jonas, uploaded his first post since the separation allegations, making his wedding ring the centre of attention. Joe looked oh-so-sexy in the photograph, holding a drink and flashing his wedding band.
As he posed for the camera, he fixed his gaze on the lens. Even though he did not caption the shot, people assumed it was a subtle response to the claims.
Also Read: Priyanka Chopra shares cute photos of Nick Jonas, calls him 'dreamy'
"Y'all really made this man post a singular picture of himself wearing his ring because of rumors going around the internet lmao," a fan wrote. "He said here are BOTH rings. Now shut up," a second fan noted. "He really said: here's the ring. now shut up," a third comment read. "Joe out here squashing all the rumours 💍," a fourth fan wrote. Meanwhile, Sophie has yet to respond to the allegations.
On Sunday (Sept 03), TMZ reported that Joe Jonas and Sophie Turner's marriage has been plagued by 'serious issues' and that the couple may be on the verge of divorce. According to a source, Joe Jonas' team contacted and met with two divorce lawyers in Los Angeles. "He is on the verge of filing divorce papers to end his marriage to Sophie," according to the newspaper. The couple's children, Willa and her younger sister, were also spotted with Joe Jonas during the Jonas Brothers tour, according to the international outlet. Joe reportedly stopped wearing his wedding band recently, fueling suspicion that they had broken up.
Also Read: Joe Jonas, Sophie Turner headed for divorce: Couple has faced 'serious problems' 
Joe, 34, married Sophie, 27, in 2019 after they had been together for a few years. They started dating in 2016 when Joe snuck into her DMs.
Last Updated Sep 5, 2023, 8:34 AM IST