Trisha Krishnan condemns Mansoor Ali Khan's sexist remark; director Karthik Subbaraj labels him "disgusting"
Tamil actress Trisha Krishnan condemns actor Mansoor Ali Khan's sexist remarks. Director Karthik Subbaraj and Khushbu Sundar join in denouncing his disrespectful comments.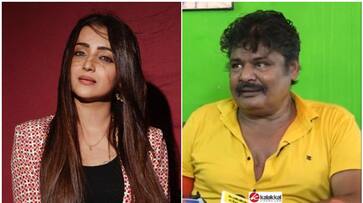 Tamil actress Trisha Krishnan found herself in a state of distress following a disparaging remark made by fellow actor Mansoor Ali Khan. Both Trisha and Mansoor were cast in Lokesh Kanagaraj's recent release, "Leo," which features Thalapathy Vijay in the lead role. Despite delivering a compelling performance, Trisha did not share screen time with Mansoor.
During a recent interview, Mansoor made a comment about regretting not having the opportunity to share a "bedroom screen" with Trisha. He went on to mention his past involvement in "rape scenes," claiming it was not a new experience for him. Trisha, understandably offended by Mansoor's comments, addressed the issue, referring to a press conference where Mansoor expressed disappointment about not working alongside her in "Leo."
The actress took to her twitter and said "A recent video has come to my notice where Mr. Mansoor Ali Khan has spoken about me in a vile and disgusting manner. I strongly condemn this and find it sexist, disrespectful, misogynistic, repulsive and in bad taste. He can keep wishing but I am grateful never to have shared screen space with someone as pathetic as him and I will make sure it never happens for the rest of my film career as well. People like him bring a bad name to mankind."
In a viral video, Mansoor, speaking in Tamil, stated, "When I heard that I was acting with Trisha, I thought there would be a bedroom scene in the film. I thought I would carry her to the bedroom just like I did with other actresses in my earlier movies. I have done so many rape scenes and it's not new to me. But these guys didn't even show Trisha to me on the sets during the shoot in Kashmir." Trisha recieved a huge support from netizens online.
Director Karthik Subbaraj also strongly criticized Mansoor Ali Khan for his inappropriate comments about Trisha. Trisha, expressing her disapproval, declared her decision to refrain from working with Mansoor in the future. While Karthik who is the director of recent movie "Jigarthanda DoubleX" took to X (formerly known as Twitter) to denounce Mansoor, describing him as "disgusting." The director reposted Trisha's statement regarding the incident and shared his own reaction, "Disgusting MEN kind he is……. Shame on you MansoorAliKhan (sic)."
Actress-politician Khushbu Sundar has also condemned Mansoor's statement She said, "Some men think it's their birth right to insult a woman or speak about her in a most disrespectful manner. Recent video of #MansoorAliKhan is one such example. I vehemently condemn his speech. They think their "chumma comedykku sonnen" attitude will be overlooked n ignored. No, it won't be done so. He should apologise to every female actor he has named in his speech and to women in general for displaying his dirty, misogynist, lowly minsdset. Women of today are strong enough to fight for their respect & dignity."
 ALSO READ: Watch: Anant Ambani gives snake to Shah Rukh Khan on Isha Ambani's twins' birthday party
Last Updated Nov 19, 2023, 2:45 PM IST