Actor Parineeti Chopra's video talking about how her family didn't have money to even buy a car and how she had to cycle to school, has gone viral.
However, her friends from school, have called this a fabricated lie for publicity.
Parineeti Chopra was addressing a group of women on the self-defence graduation day.
Bollywood actress Parineeti Chopra was addressing a group of women on the self-defence graduation day, speaking about the problems she faced as a girl growing up in Ambala, Punjab who could not afford a car and had to cycle to school. 
A few day ago, Akshay Kumar and Parineeti Chopra attended a graduation day ceremony of a popular self-defence academy in Mumbai. Where she open up about her  'difficult' childhood to motivate them in life. However, it seems, a few of those motivational sob-stories were untrue, and the Ishaqzaade actress is allegedly lying.
In the video, Chopra said, "I am so touched after coming here as I am thinking about my life. I am from a very small city, Ambala. I had two brothers growing up and we had a lot of difficulties. We didn't have any money, so I used to travel by cycle, to school. We did not have a car, or even money for the bus. I used to fight with my mom and dad saying why do I have to cycle to school every day. I did not have the money to join a martial arts class during the time. I am so happy for you that you got this opportunity. Thank yourselves that you are graduating from such an institute. Make use of this knowledge and go kick some ass."
It was this statement which was questioned by a Facebook user claiming to be her schoolmate named Kkanoo Gupta, whose Facebook profile says he's a cluster manager for an automobile firm, posted a video of Parineeti recounting her growing up years at Ambala, where she had to go to her school on a bicycle as she did not come from a privileged background.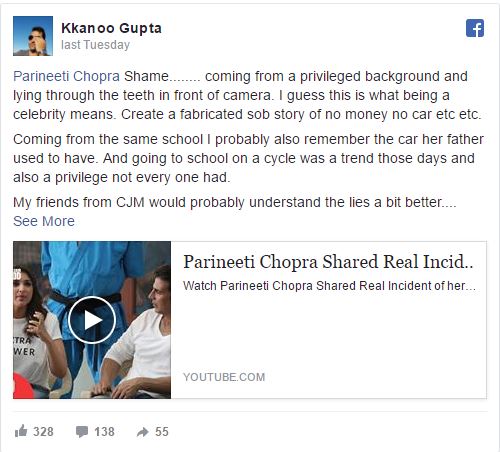 Kkanoo wrote, "Parineeti Chopra Shame…….. coming from a privileged background and lying through the teeth in front of camera. I guess this is what being a celebrity means. Create a fabricated sob story of no money no car etc etc. Coming from the same school I probably also remember the car her father used to have. And going to school on a cycle was a trend those days and also a privilege not every one had. My friends from CJM would probably understand the lies a bit better. SIC."
However, Kkanoo Gupta's Facebook post has been deleted from his timeline, in the post some people had commented the same views. These comments do imply that Parineeti comes from one of the most influential families from Ambala. 
Here's what a woman wrote, " Yeah so true. She was our neighbours relative in Ambala and use to come in the car with her family. And can media ask her right after school they became so rich that she could afford to study in London."  Another ex student from CJM, Deepali Malhotra Bhatti, replied, "All cjmites can vouch for the lies about her financial status. Most kids from Ambala Cantt cycled to Cjm during those days, including many well-off ones. There could have been eve-teasing on roads but why the sob story of poverty?? (sic)." Priyanka Mundhar, who is also from CJM said, "Can't believe what she just said ! May be she wants people to relate with her... but she took it too far with this "No Money" story (sic)."
Later, Parineeti shared a post which says her side of story on Twitter, read: "I think what I said at a martial arts event a few days ago has been misconstrued in some places, so I would like to take a moment and clarify what I meant. As long as I was in school in Ambala my brothers and I did not have access to a car and driver to take us to school, so they took the bus and I cycled. My dad followed close behind me to ensure I reached school safely."
It added, "My dad did have a car that he used for his office work but we kids did not use it for school travel. As a child I hated going on a cycle! But today I understand that he was doing it to keep me independent and keep me safe. I know I said this even that day but somehow it's being misconstrued, about something very irrelevant about me having a car or not!! I was talking about using a car and driver to go to school thats all. The essence of what and why I was giving that example was completely lost (sic)."