Tejas: Kangana Ranaut's film suffers loss of whopping Rs 50 crore; read details
Bollywood actress Kangana Ranaut's latest film, Tejas, lost Rs 50.77 crore at the box office. The producers have only recovered Rs 19.23 crore from the film.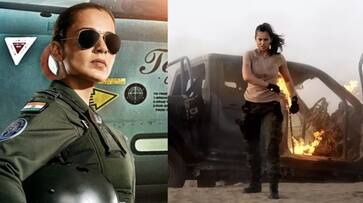 Bollywood actress Kangana Ranaut hasn't had a blockbuster in the theatres in a few years. Tejas, her most recent film, has proven to be another failure for the actress. There was little marketing for the movie's release. Word of mouth needed to be stronger to get people to the theatres even after the film's release. In most recent reports, Tejas has suffered a staggering loss of more than Rs 50 crore.
On October 27, Tejas made its theatrical premiere. During its whole run, it barely generated Rs 4.25 crore. Ronnie Screwvala is the producer of the movie. The movie cost Rs 70 crore, according to reports. The producers suffered greatly monetarily, taking in nearly nothing at the home box office and barely Rs 70 lakh from the outside market. For Rs 17 crore, Tejas' audio, satellite, and over-the-top rights were sold. The box office revenues have brought in Rs 2.23 crore for the distributors, both local and foreign.
The producers have lost a total of Rs 50.77 crore since they have only been able to recoup an overall of Rs 19.23 crore from the movie. Anshul Chauhan, Varun Mitra, Anuj Khurana, and Veena Nair play significant parts in the cast of Tejas.
Also Read: Manoj Muntashir reveals how 'Adipurush' was 'big mistake' for him
Prior to Tejas, Kangana appeared in Chandramukhi 2. The movie was expected to be quite successful, but regrettably, it was also a failure at the box office. The actress made her Tamil debut in the major role opposite Raghav Lawrence. The movie had a respectable start, but it suffered the next day and couldn't get back on track. Trade sources state that Chandramukhi 2's lifetime total at the domestic box office was Rs 40.33 crore net. It brought in an additional Rs 9 crore at the foreign box office for a total worldwide revenue of Rs 56.58 crore.
Before Chandramukhi 2, the Kangana-starring film Dhaakad was a complete mess. According to reports, the movie's producers lost Rs 78.22 crore at the box office.
Also Read: Do you know Shah Rukh Khan has 5th degree black belt in taekwondo?
With the release of Emergency, Kangana appears to be looking to round off her year with a blockbuster at the box office. The movie is a historical drama with a biographical element that Kangana produced and directed herself. The actress is set to portray Indira Gandhi, the former Prime Minister.
Last Updated Nov 10, 2023, 2:53 PM IST