Manoj Muntashir reveals how 'Adipurush' was 'big mistake' for him
Adipurush fame scriptwriter Manoj Muntashir Shukla, in his recent interview with a media portal, has opened up and made an honest confession on how he has unknowingly made one of the 'biggest mistakes' by defending the Prabhas and Kriti Sanon starrer.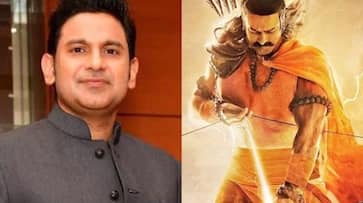 Adipurush dialogue writer and lyricist Manoj Muntashir Shukla has reacted to the criticism he had received after the release of Prabhas and Kriti Sanon starrer earlier this year. Adipurush garnered ire, flak and backlash for its "distorted" depiction of Ramayana, particularly with the main emphasis on the viral and controversy-provoking dialogues of the character of Lord Hanuman as "overly colloquial."
ALSO READ: Subhash Ghai drops 'unseen' snap of Katrina Kaif from the Ramesh Taurani-hosted Diwali party - SEE PHOTO
In his latest interview with a leading Indian news portal, Manoj admitted that he went "100 percent wrong" during Adipurush. Manoj shared, "I am not such an insecure person that I would defend my writing skills by saying that I have written well. It is a 100 percent mistake. But there was no bad intention behind that mistake. I had no intention of hurting the religion and causing trouble to Sanatan or to defame Lord Ram or to say something about Hanuman ji, which is not there."
He continued, "I would never even think of doing that. Yes, I made a big mistake. I have learned a lot from this accident. It was a great learning process. I will be careful from now on. But it does not mean that we will stop talking about ourselves."
Manoj further said that he should have honestly just realized and admitted his mistake and not given any justification when people were expressing their anger against the movie. He said, "I feel that when people were furious, I should not have clarified that time. It was my biggest mistake. I should not have spoken at that time. If people are angry with my clarification, then their anger is justified. It was not the time to clarify this error. But, today, I understand that mistake."
ALSO READ: Koffee With Karan 8: Salman Khan to grace 'Kouch' for season finale? Here's what we know
Last Updated Nov 10, 2023, 1:28 PM IST