Sophie Turner, Joe Jonas reach middle ground for their daughters' custody; Know details
Amid ongoing allegations of their fight for keeping their daughters' custody, a new update for the fans of the ex-couple is out now. Sophie Turner and her ex-husband, Joe Jonas, finally have agreed to reach a middle ground for the official custody of their daughters'.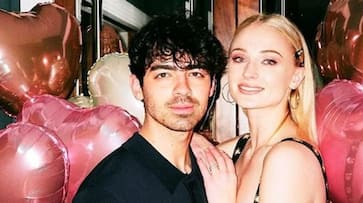 Sophie Turner and Joe Jonas are keeping their two young children in New York at the current moment as part of a temporary court agreement filed Monday. The two stars are in the midst of a divorce after four years of marriage. Last week, Turner sued Jonas, seeking the return of their children to London. But an interim consent order obtained by CNN and filed in New York shows that the Game Of Thrones actress and the Jonas Brothers singer have settled on a temporary agreement to keep their daughters, born in 2020 and 2022, in the States.
ALSO READ: RRKPK: Karan Johar reveals his facination with infidelity; throws light on Dharmendra, Shabana Azmi's track
Their document stated, "The parties have agreed to the entry of the attached proposed Interim Consent Order, without prejudice to either claims and defences of the concerned parties, prohibiting the removal of the parties' children from the jurisdictions of the United States District Courts for the Southern & Eastern Districts of New York pending further order of this Court."
In her petition last week, Turner outlined the now-estranged couple and their efforts over the past year to find their forever home in England and that before the end of their marriage, they had mutually agreed on settling in the UK.
Their children "are both fully involved and integrated in all aspects of daily and cultural life" in England, according to the petition, which also said they anticipated purchasing a new home, for which they had been in contract negotiations and planned to close on this December.
A representative of Joe said, "Joe is seeking shared parenting with the kids. It is so that they get raised by both their mother and father. He is also okay with the kids getting raised in USA and UK. The children were born in the USA and have spent the majority of their lives in the USA. They are American citizens."
ALSO READ: The Archies: Zoya Akhtar on what to expect from Suhana Khan, Khushi Kapoor's debut
Last Updated Sep 26, 2023, 10:28 AM IST