RRKPK: Karan Johar reveals his facination with infidelity; throws light on Dharmendra, Shabana Azmi's track
Karan Johar discusses his fascination with infidelity and reveals the inspiration behind Dharmendra and Shabana Azmi's storyline in "Rocky Aur Rani Kii Prem Kahaani." He addresses criticism of his film on infidelity, emphasizing its emotional exploration. Johar is currently basking in the success of the movie and has "Kill" lined up for his next project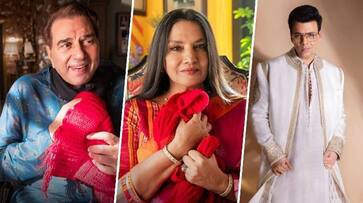 In a recent revelation, Karan Johar, shared his fascination with infidelity and delved into the love story between Dharmendra and Shabana Azmi in his latest film, "Rocky Aur Rani Kii Prem Kahaani."
Karan Johar is known for setting high benchmarks in the Bollywood industry by delivering entertaining cinematic experiences for audiences to savor. From classics like "Kuch Kuch Hota Hai" to his latest creation, "Rocky Aur Rani Kii Prem Kahaani," Karan has consistently romanticized the essence of love on the silver screen. Recently, the celebrated director opened up about his fascination with infidelity, describing it as an intriguing topic. Notably, Karan directed the 2006 film "Kabhi Alvida Naa Kehna," which featured Shah Rukh Khan, Preity Zinta, Rani Mukerji, and Abhishek Bachchan, and explored the theme of infidelity.
Karan Johar discussed his preoccupation with infidelity and the reactions he received for making a film on this subject. He remarked, "For me, I'm so obsessed with infidelity. I made a movie on it, and I remember someone telling me, 'Why are you endorsing infidelity?' I'm like, 'dude, you can't endorse something that's already sold out.' Just emotionally speaking, I'm always intrigued by the idea of infidelity and how it can be a reality," shedding light on his creative process.
Moreover, Karan Johar also shed light on the storyline involving veteran actors Dharmendra and Shabana Azmi in "Rocky Aur Rani Kii Prem Kahaani." He revealed that the inspiration for this track came from a personal anecdote involving a family member with dementia who recalled a past love. This intriguing story served as the foundation for Dharmendra and Shabana Azmi's plotline in the film.
Reflecting on the family member's experience, Karan shared, "He just said this name, and it was a scandal. And then the truth came out that he was actually having an affair. And there was drama happening in and around this situation. And my father had to fly down. My mother had to fly down. And I remember, instead of feeling terrible about what was happening between these three people at an average age of 82, I was like, 'wow, like this is great.'"
On the work front, Karan Johar is currently basking in the praises for "Rocky Aur Rani Kii Prem Kahaani," which featured Ranveer Singh and Alia Bhatt in leading roles. Additionally, he has the eagerly anticipated film "Kill" lined up for his future projects. Karan Johar's ability to bring intricate and emotionally charged stories to life continues to captivate audiences, making him a prominent figure in the world of Bollywood filmmaking.
ALSO READ: Dunki vs Salaar: Fans to see Shah Rukh and Prabhas vying on Christmas 2023 with their films at box office
Last Updated Sep 26, 2023, 9:35 AM IST