Shah Rukh Khan Vs Jason Momoa? Is Aquaman 2 releasing with Dunki? Read this
The December 22 release date of Jason Momoa's "Aquaman 2" has been rescheduled in light of the simultaneous release of "Dunki" starring Shah Rukh Khan.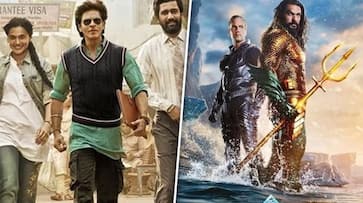 The producers of DC's Aquaman and The Lost Kingdom have unveiled a poster revealing the film's India release date, starring Jason Momoa. Consequently, Aquaman 2 has deftly sidestepped a conflict with the highly anticipated Dunki, starring Shah Rukh Khan. Previously, Dunki and Aquaman 2 were scheduled to release on December 22. The DC movie will now, however, be released on December 21.
This implies that the Aquaman 2 movie will be available to DC movie fans one day ahead of its global premiere. James Wan is the director of Aquaman 2, which also features Patrick Wilson, Nicole Kidman, and the contentious Amber Heard. 
Also Read: 'Tiger 3' box office collection Day 2: Yash Raj's spy thriller enters Rs 100 crore club
Aquaman And The Lost Kingdom's poster was dropped on social media on November 13. "It's time for Atlantis to rise. Aquaman and the Lost Kingdom – Only in theaters December 22," read the caption. Jason Momoa and Patrik Wilson, as Arthur Curry, nicknamed Aquaman, and Orm, called Ocean Master, respectively, were shown in the poster. The two had fierce appearances; Jason was dressed like a golden fin and was carrying a trident, while Patrik was dressed in black. A tagline that said, "The tide is turning," was included with the image. But unlike the last Aquaman poster, Amber Heard was not included in this image. In the movie, she portrays the character Mera.
About Dunki
In the meanwhile, major parts are played by Shah Rukh Khan, Vicky Kaushal, and Taapsee Pannu in Dunki. Rajkumar Hirani is the director of Dunki, which is SRK's third release of the year. It is purported to centre on immigration-related concerns and most likely feature Shah Rukh in a Punjabi role.
Also Read: Is 'Jawan' director Atlee planning a film with Shah Rukh Khan, Vijay? Details here
The last time we saw Shah Rukh Khan, he was in the hugely popular Atlee film Jawan, which also starred Nayanthara and Deepika Padukone. He briefly appeared in Salman Khan's most recent film, Tiger 3. Emraan Hashmi and Katrina Kaif are the stars of Tiger 3. On November 12, Diwali, the movie's premiere date. 
Last Updated Nov 14, 2023, 2:48 PM IST