Shah Rukh Khan, Manoj Vajpayee 'poles apart' on acting; reveals Jawan star Priyamani on her co-actors
Priyamani, in an interview, discusses the contrasting acting styles of Shah Rukh Khan and Manoj Bajpayee. She praises Bajpayee's improvisational skills and Shah Rukh Khan's ability to bring vitality to characters. Both actors, trained by Barry John, offer distinct yet remarkable approaches to their craft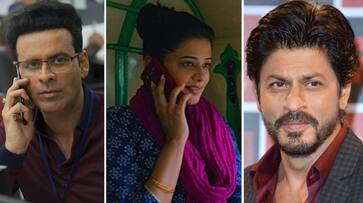 In a recent interview, Priyamani, known for her exceptional acting skills in Atlee Kumar's "Jawan" and her role in the spy thriller TV series "The Family Man" alongside Bollywood stalwart Manoj Bajpayee, discussed the contrasting acting styles of Manoj Bajpayee and Shah Rukh Khan.
Both Manoj Bajpayee and Shah Rukh Khan are celebrated actors renowned for their diverse acting styles and talents. Interestingly, they both share a common acting coach, Barry John. Given Priyamani's experience working with both these actors, she was asked to share her insights into the similarities and differences between SRK and Bajpayee.
ALSO READ: Singham Again: Ranveer Singh shares BTS of Rohit Shetty- Ajay Devgn cop film; seen in Simmba mode
Priyamani described Manoj Bajpayee and Shah Rukh Khan as distinctly different in their approach to acting. While she found it challenging to pinpoint specific differences, she did emphasize that a significant portion of the scenes in "The Family Man" was improvised, primarily due to Bajpayee's brilliance. She praised Manoj Bajpayee's acting prowess and expressed her gratitude for having him as her co-star in the series, highlighting his phenomenal talent and her admiration for his work beyond "The Family Man."
Regarding Shah Rukh Khan, Priyamani mentioned that he typically adheres to the script more closely compared to Bajpayee. However, she acknowledged that SRK also brings his own touch to the characters he portrays. She noted that Shah Rukh Khan brings a lively and enjoyable flavor to his roles, adapting as required by the character. She mentioned some of his notable performances in movies like "Swades," "Chak De India," "Kabhi Khushi Kabhie Gham," "Fan," "Zero," "Kal Ho Naa Ho," "Pathaan," and "Jawan," emphasizing the diversity and depth in his acting.
Conversely, when discussing Manoj Bajpayee, Priyamani commended his ability to transform himself into characters like Srikant Tiwary from "The Family Man" and his recent role in "Sirf Ek Bandaa Kaafi Hai." She described his approach as brilliant, highlighting his unique ability to infuse his own essence into the characters he portrays.
ALSO READ: Jawan song 'Aararaari Raaro' OUT: Deepika Padukone as Aishwarya tugs at heartstrings in soulful performance
Last Updated Oct 1, 2023, 1:00 PM IST