Romance and situational comedy truly resonate with me: Alisha Parveen
Alisha Parveen, who recently appeared in the TV series 'School Friends,' says that the combination of romance and situational humour genuinely connects with her, and that the filming also made her nostalgic. In 2015, she made her acting debut in the film "Talvar." By JAIDEEP PANDEY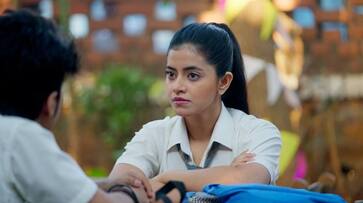 Over the past five years, the remarkable success of the OTT has led to the exploration of genres at their peak, while also narrowing the divide between those with a filmy background and outsiders. This shift has greatly impacted the storytelling style, enabling many young actors to take on challenging and positive roles that resonate with youthful audiences.
Recently seen in the TV series 'School Friends', Alisha Parveen believes that the blend of romance and situational comedy truly resonates with her, so the shoot also made her quite nostalgic. The actress marked her acting debut with the film 'Talvar' in 2015. 
Here's a recent conversation with Alisha on acting, OTT & more:

How was your experience playing a student and adjusting to a different dialect?
Oh, portraying a student again for 'School Friends' was a delightful trip down memory lane. Experiencing the challenges, joys, and even exams brought back a flood of memories. It felt like reliving those school days, and surprisingly, I formed a deep connection with my character Dimple. I can't put into words how incredible this journey was, both as an actor and on a personal level.

To what extent did you find the character relatable to your own life? Were there any similarities?
Playing a student was a lovely throwback. It felt like a dose of nostalgia, reminding me of my school days. Even though Dimple is quite different from me - I'm more of a lively spirit - there were still these moments in the script that echoed my own school experiences. The mischief, the different shades of friendship, those were all too familiar. It helped me bridge the gap and make Dimple feel more authentic in the show.

How do you perceive the romantic-comedy genre in terms of its connection to realism?
I believe that the romantic comedy genre has truly grown on me. In an era where drama and conflicts often dominate, romantic comedies bring a breath of fresh air. They demonstrate that within a romantic narrative, there can be moments of genuine humor derived from everyday situations. It's this blend of romance and situational comedy that truly resonates with me.

Do you concur that OTT platforms have emerged as a superior means of storytelling?
I believe OTT platforms and theaters cater to different audiences and purposes. In movies, you have a constrained time to convey the entire story, while in series, you can unfold the narrative over multiple episodes, allowing for more comprehensive storytelling. However, labeling one as superior over the other is subjective. It's more about adapting to the format that best suits the story being told. Personally, I don't see one as superior; it's about what fits the narrative most effectively.

What are some of the fundamental challenges that come with being an actor?
Being an actor requires continuous growth and learning. We must consistently hone our skills, invest in our craft, and strive to improve with each passing day. It's simply not easy; it demands dedicated effort and relentless commitment. The profession requires a daily grind to enhance our craft, making it a challenging yet fulfilling journey.

Do you follow the director's cues or rely on your instincts when acting?
Yes, I generally follow the director's cues as they provide valuable guidance. However, there are instances where I trust my instincts, especially if I believe a different approach could enhance the scene. It's about balancing the director's vision and my creative insights. Collaboration and open discussion with the director are essential, we often brainstorm to ensure we're presenting the best version of the scene.

What's on the front for you in the realm of acting?
There's a lot that's coming ahead, and I can't wait to share it with everyone. My focus is on entertaining my fans and the broader audience. I aspire to continually improve and deliver my best in every role, embracing new opportunities and challenges that come my way. The excitement lies in going beyond the comfort zone, in exploring different characters and narratives, and ultimately growing as an actor.
 
Last Updated Oct 14, 2023, 11:42 AM IST