Pathaan: Will Deepika Padukone's 'orange bikini' be remove from 'Besharam Rang'? SRK's film gets postponed?
According to Kamaal R Khan, Shah Rukh Khan's film Pathaan will be delayed since the directors intend to change the title and delete Deepika Padukone's orange bikini from the film.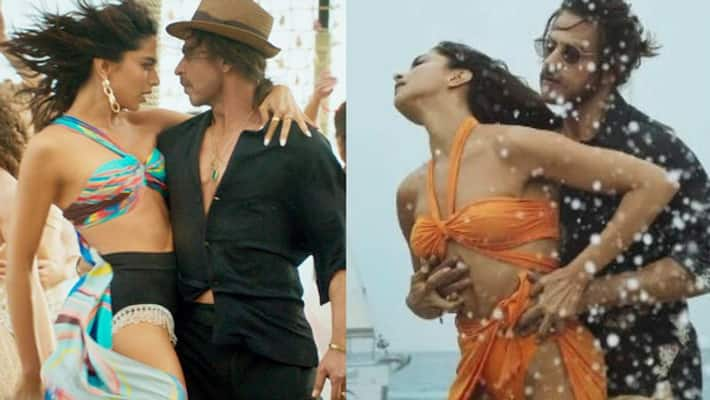 Despite the controversies surrounding it, Shah Rukh Khan and Deepika Padukone's sensuous number Besharam Rang from their upcoming film Pathaan became one of the most popular songs to be aired around the New Year. 
The Central Board of Film Certification (CBFC) has reportedly asked the creators to make alterations to the film, including the songs, weeks before its release. It is unknown whether the CBFC requested a title change, a change in Deepika's clothing in Besharam Rang, or a change in the song's lyrics.
Shah Rukh Khan fans are eagerly awaiting his return with Pathaan, but the film has been embroiled in various issues that may influence box office statistics.
The newest update from industry insider Kamaal R Khan indicates that the Pathaan release date has been pushed back and that the creators will change the film's title to eliminate Deepika Padukone's orange bikini, which caused quite a stir. KRK has no credibility, but this validation from the self-proclaimed critic has left SRK followers depressed.
Earlier, it was reported that King Khan was suing KRK for defaming and insulting Deepika Padukone over the bhagwa bikini incident. Kamaal also revealed this information on his official Twitter account, where he stated that Shah Rukh would sue him for stating the truth about their song Besharam Rang, which is about skin showing.
KRK even stated that Pathaan would be a box office failure, citing three reasons for this. The self-proclaimed critic was heavily mocked and chastised for this tweet and for spewing rubbish in front of Shah Rukh Khan supporters. 
Regarding Pathaan, there has been no official notification regarding the delay, but supporters are confident that King Khan will arrive and conquer.
Last Updated Jan 4, 2023, 8:07 AM IST