Parineeti Chopra, Raghav Chadha wedding: Groom, baraat to make smashing entry on boats
Parineeti Chopra and Raghav Chadha are set and ready to get married in a big-fat Punjabi royal destination wedding at Udaipur, Rajasthan, on September 24. According to new updates, The groom and baraat will make smashing entry on your boats.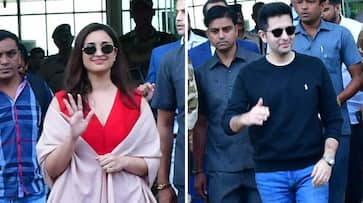 Parineeti Chopra and Raghav Chadha will get married on Sunday, September 24. The event promises grandeur, as it will be a high-profile affair with guests from political realms and the film industry. Exclusively learnt by a leading Indian entertainment portal, the groom and his party will make a majestic entrance aboard royal boats. It is about to be an affluent celebration which is surely being awaited by netizens and fans.
ALSO READ: Parineeti-Raghav wedding: Blue coloured tape pasted on phone cameras to ensure no leaked videos, photos
The big-fat traditional Punjabi wedding of Parineeti Chopra and Raghav Chadha will happen at The Leela Palace Hotel in Udaipur. The hotel is created and situated amidst the scenic Pichola Lake and Aravali Hills on all sides. It is true that the groom and his baraatis will be staying in The Taj Lake Palace, from where they will be taking royal boats to arrive at The Leela Palace Hotel.
According to the royal and intimate wedding card, the baraat procession will have a royal theme. The map shows the Taj Lake Palace in the middle of the lake and The Leela Palace on the other side. The groom, Raghav Chadha, and the baraatis will board royal boats at the Taj Palace and make their way to the Leela Palace at 2 PM on Sunday.
Parineeti Chopra and Raghav Chaddha will get married in The Leela Palace in Udaipur. The hotel is created and surrounded by Pichola Lake and Aravali hills on all sides. The Maharaja and Royal Suites here are the most expensive and special ones. Both the suites are so huge that a bungalow can be built equal to their size! The Royal Suite has a golden dome. At the same time, there is Tikri art made of glass, which depicts the culture of Mewar. This glass artwork has been done on the walls and on the balcony.
The rooms in the hotel are divided and segregated into eight categories, whose daily rent ranges from Rs 47,000 to Rs 10 lakh. Maharaj, Royal, Duplex and Luxury suites are the most expensive ones. Grand Heritage Lake View and Grand Heritage Garden View have the lowest rents.
ALSO READ: Parineeti Chopra-Raghav Chadha wedding: Hotel's lavish suite room costs THIS whopping amount per night?
Last Updated Sep 22, 2023, 2:19 PM IST