Michael Gambon aka Dumbledore passes away; Harry Potter star mourned by co-stars
Olivier award-winning actor Sir Michael Gambon, renowned for his diverse roles in theater and film, including Albus Dumbledore in Harry Potter, has passed away at 82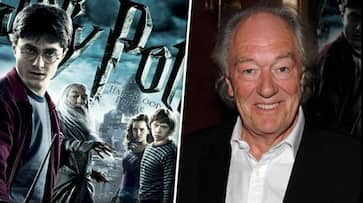 Sir Michael Gambon, the Olivier award-winning actor known for his remarkable career on stage and screen, including his iconic portrayal of Albus Dumbledore in the Harry Potter film series, has passed away at the age of 82. A statement released on behalf of his wife Lady Gambon and son Fergus, by publicist Clair Dobbs, confirmed the sad news and requested privacy for the family during this difficult time.
Gambon, affectionately nicknamed "The Great Gambon" by Ralph Richardson, was widely admired by fellow actors and excelled in roles across various theatrical genres, including works by playwrights such as Pinter, Beckett, and Ayckbourn. One of his standout performances was in Arthur Miller's "A View from the Bridge" in 1987, directed by Ayckbourn, which earned him an Olivier award for his portrayal of the complex character Eddie Carbone.
Throughout his career, Gambon took on diverse roles, including the eponymous scientist in Brecht's "The Life of Galileo" and a Tony award-nominated performance on Broadway in David Hare's "Skylight." He also found success in arthouse films, notably in Peter Greenaway's "The Cook, the Thief, His Wife and Her Lover" (1989), as well as in major movies like "Sleepy Hollow," "The Insider," and "Gosford Park."
One of his most iconic film roles was stepping into the character of Professor Albus Dumbledore in the Harry Potter film series, succeeding Richard Harris after his passing in 2002. Gambon's distinctive voice graced many films, including his role as Uncle Pastuzo in both Paddington movies and as the narrator in the Coen brothers' "Hail, Caesar!"
With his imposing presence and captivating acting skills, Gambon earned the adoration of audiences and the respect of his peers. Despite his fame, he guarded his privacy and was known for his reluctance to grant interviews. In 2004, he humorously remarked, "I just plod on and try to keep my mouth shut."
Gambon's journey into acting was unconventional; he left school at 15 and gained experience through amateur productions. Born in Dublin in 1940, he moved to England with his mother at the end of World War II. His early career included roles as a set builder before he ventured onto the stage. He even fibbed about his experience to secure his first professional roles and made his West End debut as an understudy in "The Bed-Sitting Room." He also attended an acting course at the Royal Court, led by George Devine and William Gaskill.
Remarkably, Gambon had never seen a Shakespeare production before he acted in one himself. He performed alongside theatrical legends like Laurence Olivier in "Othello" and Peter O'Toole in "Hamlet." Following Olivier's advice, Gambon joined the Birmingham Repertory theatre to secure larger roles, including the title role in "Othello." His career continued to flourish with roles in iconic productions like King Lear and Antony and Cleopatra at the Royal Shakespeare Company.
Gambon made a significant impact on television, starring in two successful series: Dennis Potter's musical noir "The Singing Detective," where he played a mystery novelist afflicted with psoriatic arthritis, and a series of Maigret thrillers as Georges Simenon's Parisian detective. He also appeared as an angel in a TV adaptation of Tony Kushner's "Angels in America," alongside Simon Callow.
In later years, Gambon began to withdraw from stage work, citing difficulty remembering lines. Nevertheless, he remained connected to the stage, lending his distinctive voice to Jamie Lloyd's production of "Mountain Language" as part of the Pinter at the Pinter season in the West End in 2018.
ALSO READ: Raj Kundra to star in biopic on jail experience following controversial arrest, read details
Gambon's contributions to the world of theater and film will be remembered as a testament to his immense talent and dedication to his craft. His passing marks the end of an era in the world of acting, leaving behind a legacy that will continue to inspire future generations.
Last Updated Sep 28, 2023, 5:41 PM IST