KBC 15, Ep 16 Update: Amitabh Bachchan astounds Jaskaran Singh for 7 crore question
KBC 15: Jaskaran Singh, a Punjab student, won Rs 1 crore but couldn't answer the Rs 7 crore question becoming the first person to earn the coveted 1 crore slab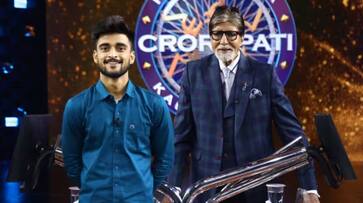 In the 16th episode of 'Kaun Banega Crorepati 15,' which aired on September 5, contestant Jaskaran Singh made history by becoming the first contestant to answer the Rs 7 crore question correctly. The popular quiz-based game show, hosted by Bollywood megastar Amitabh Bachchan, premiered its 15th chapter on August 14 on Sony TV.
Jaskaran Singh hails from Kharda, Punjab, and introduced himself as one of the few graduates from his area. Currently pursuing B.Sc in Economics, he is in his third year and also preparing for the UPSC entrance exam. During his introduction, Jaskaran shared an inspiring story of how he overcame obstacles to participate in KBC. He had an exam on May 25 and had to attend the KBC auditions on May 26. Thanks to his father's support, he managed to arrange funds for a flight ticket to Mumbai, marking his first flight ever. He expressed his gratitude and commitment to give back to his father, considering it his life's first earnings.
Jaskaran's journey on the show began with the Rs 3,20,000 question, and he steadily progressed. He eventually reached the Rs 1 crore question, which was: "Who was the Viceroy of India when the capital of India was shifted from Calcutta to Delhi?" With the help of the 'Double Dip' lifeline, Jaskaran correctly answered option B, Lord Hardinge, becoming the first contestant in KBC 15 to win Rs 1 crore. Amitabh Bachchan congratulated him on his achievement.
However, Jaskaran's journey took an interesting turn when he attempted the Rs 7 crore question: "According to the Padma Purana, which king had to live as a tiger for a hundred years due to a deer's curse?" Unable to provide the correct answer, he decided to quit the game but not before securing his winnings of Rs 1 crore. As a reward, Jaskaran also won an air conditioner.
ALSO READ: Ganesh Chaturthi 2023: 5 most popular foods to celebrate and enjoy Lord Ganesha's birthday
'Kaun Banega Crorepati 15' airs on Sony TV from Monday to Friday at 9 PM and can also be streamed on the SonyLIV app. The show has introduced some changes to its format, including the addition of 'Super Sandook,' a lifeline that allows contestants to retrieve what they might have lost during the game. Another new lifeline called 'Double Dip' has been added, and an element known as 'Desh Ka Sawal' aims to increase audience participation in the show.
ALSO READ: Janmashtami 2023? When is Krishna Janmashtami, September 6 or 7? Read THIS
Last Updated Oct 27, 2023, 10:00 AM IST