The Crown season 6 Part 1: Elizabeth Debicki as Princess Diana takes away cake from the Late Queen Elizabeth
The Crown season 6 part 1 rightly belongs to Princess Diana. The season deals with the tumultuous period of the Princess's divorce from the then Prince of Wales now King Charles III, scrutinizes the weeks leading to her death. Here's what we think of the 4th episode part 1. Read on as we wait for Part 2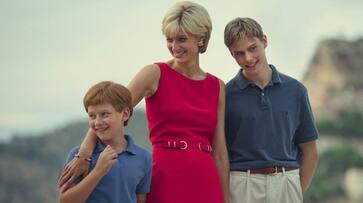 The Crown season 6 Part 1 released today with part 2 scheduled to release on December 14th. As the historical drama nears it's end, the final season promised nothing but a fiery one as it is deals with the most tumultuous period of the Late Queen's rule. 
Season 5 was a huge debacle for the makers for their almost villainous portrayal of Lady Di in order to give the then Prince Charles, now King Charles III a ground to built on to some sympathy post 'Camilla-gate'. 
But all said and done, season 6 is back with two parts and the first part rightly belongs to Princess of Wales, Lady Diana. The timeline of the season is a year later after the divorce of Prince Charles and Princess Diana when they are co-parenting both their sons, Prince William now Prince of Wales and Prince Harry, Duke of Sussex. 
Elizabeth Debicki as Princess Diana, fresh out of a marriage and having to cope in a life without the perks of royalty, in spite of having to bear the scrutiny that comes with being a royal---- the portrayal of it is delicious. She builds slow and steadily from what has been wonderfully solidified by Emma Corrin in season 4 and herself in season 5.
Queen Elizabeth, played by Imelda Staunton becomes a side character in her own show. Though the story of Princess Diana's final predicament isn't unknown and as the 'most-photographed woman in the world', the weeks leading up to her death is forever preserved through numerous images of the Late Princess. Elizabeth Debicki rightly evokes the same emotions one has for a character who's been let down by the institution and by her flawed nature as well; just immaculately humanizing the whole drama that unfolded, but from a safe distance, giving it the reverence it deserves. 
Princess Diana's much photographed relationship with Dodi-al Fayed, has been left open to interpretation with a lot happening behind closed doors. But with all the fictionalization that's their, the emotions of having lost a loved one is raw and untempered. 
The acknowledgement that the institution owed up to it's mistake of not having initially responding to the death of the then Princess of Wales, was aptly portrayed. It showed, that the dogmatic monarchy too had to climb down on it's stance.
Prince Phillip is nothing but an old radio which goes on giving lecture about how the monarchy should behave; honestly we could have done without it. Another sticking point with the whole thing was the appearance of Diana's ghost comforting the people who were pretty much responsible with the way her life turned out to be. It's uncharacteristically dramatic on the part of the makers of 'The Crown'.
Overall, Part 1 of the season is worthy of the ending to a critically acclaimed series. We cannot but wait for part 2 to be released.
Last Updated Nov 17, 2023, 10:03 AM IST