Kartik Aaryan debunks viral video showing him endorsing Congress candidate for Madhya Pradesh elections; Read
Kartik Aaryan debunked a viral video purportedly endorsing a Congress candidate, revealing it was from an OTT promo. Netizens identified the video as fake. Aaryan's film "Chandu Champion," directed by Kabir Khan, is set to release on June 14, 2024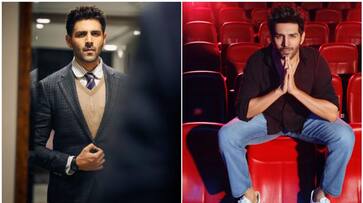 A video featuring Bollywood actor Kartik Aaryan seemingly endorsing Congress candidate Kamal Nath in the upcoming Madhya Pradesh Assembly elections has gone viral on social media. However, Kartik Aaryan recently clarified the authenticity of the video on his X (formerly known as Twitter). The actor revealed that the video had been tampered with and shared the truth behind it. He stated that the video was, in fact, part of a promotional shoot for a prominent OTT platform. Kartik Aaryan shared the original video on Twitter with the message, "This is the REAL AD @DisneyPlusHS. Rest all is Fake."
The original video showcased Kartik Aaryan in a promotional campaign for the mentioned OTT platform, which aimed to highlight the free streaming of the ICC Men's World Cup on mobile phones through the platform. This promotional video was released approximately a month ago.
The doctored video emerged on social media with manipulated audio and visual elements that created the false impression that Kartik Aaryan was endorsing political parties for the forthcoming Madhya Pradesh elections. However, vigilant netizens promptly detected the video's inauthenticity.
"Chandu Champion" is an upcoming film directed by Kabir Khan, based on the life of Murlikant Petkar, India's first Paralympic gold medalist, who sustained injuries during the 1965 Indo-Pak war. The film's release is scheduled for June 14, 2024.
In conclusion, Kartik Aaryan clarified that the viral video showing him supporting a political candidate was indeed manipulated, and the original video was created for a promotional campaign by a leading OTT platform. Netizens quickly identified the video as a fake, and Kartik Aaryan's fans were urged to refer to the genuine promotional video for accuracy. The article provides information about Kartik Aaryan's recent clarification regarding the edited video and some details about his upcoming film, "Chandu Champion.
Last Updated Oct 31, 2023, 8:41 AM IST