Shubh India Tour Row: After singer's official apology; AP Dhillon, Dino James drop cryptic social media posts
Singer Shubh's Still Rollin Tour in India has got cancelled. The Canada-based singer sparked outrage and anger among fans and netizens after he shared a distorted map of India. Shubh has issued a formal apology. The fellow singers AP Dhillon and Dino James have dropped cryptic posts on social media defending Shubh and slamming the Indian government's decision.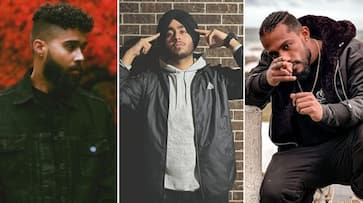 Shubh, a globally prominent Canada-based Punjabi singer, is in the news nowadays. His Still Rollin India tour stands cancelled. The singer, formally known as Shubhneet Singh, was slated to perform in multiple locations in India, including Mumbai. But days before the concert, he sparked an outrage after he shared a distorted map of India on his Instagram Stories. It led to massive criticism, with many calling him out for his actions. He got accused of supporting separatist Khalistani elements. Amid the controversy, BookMyShow announced that the India tour of Shubh stands cancelled.
ALSO READ: 'Jai Ganesh': Unni Mukundan starrer to go on floors on November 10
Taking to his official Instagram handle, Shubh wrote a heartfelt note sincerely apologizing to his fans. His caption read, "As a young rapper-singer hailing from Punjab, India, it was my dream in life to put my music on an international dais. But the recent happenings have tumbled my hard work and progress, and I wanted to say a few words to express my dismay and sorrow. I am extremely disheartened by the cancellation of my tour in India. I was so excited and enthusiastic to perform in my country in between my people. The preparations were in full swing. I have been practising with my heart and soul for the last two months. And I was very excited, happy, and ready to perform. But I guess destiny had some other plans."
Shubh also explained his perspective on the Instagram story he had shared, which eventually led to the outrage. He shared, "My intent in resharing that post on my story was only to Pray for Punjab as there were reports of electricity and internet shutdowns throughout the state. There was no other thought behind it. I definitely did not intend to hurt the sentiments of anyone. The accusations against me have affected me deeply. But as my guru has taught me "ਮਾਨਸ ਕੀ ਜਾਤ ਸਬੈ ਏਕੈ ਪਹਿਚਾਨਬੋ" "Manas Ki Jaat Sabai Ekai Pachanbo."
After the official apology issued by Shubh, fellow singers AP Dhillon and Dino James dropped cryptic posts on social media. AP Dhillon, indirectly supporting his community, wrote, "Special interest and political groups constantly use our public image as a chess piece to further their agenda while we are just trying to make art that helps people on an individual level, regardless of their colour, race, religion, nationality, gender, etc. We should spread love and not hate. Let us start thinking for ourselves and not let hateful influences program our beliefs. We are ALL one. Let us not let man-made social constructs divide us. Division has gotten us to this point, but unity is the key to the future."
Dino James also indirectly shared a cryptic post but extended support to the apology issued by Shubh in the entire raging controversy. Dino James wrote a caption on his official X account. His caption read, "I sincerely apologize for the story I posted earlier today. I had absolutely no idea about what had transpired and happened in the last 2 days and was only expressing sadness for another artist. Please pardon my ignorance."
ALSO READ: Tamil star Vijay Antony finally opens up on his daughter Meera's unexpected death
Last Updated Sep 22, 2023, 12:11 PM IST